Southern Copper, Sears And Others That Insiders Have Been Buying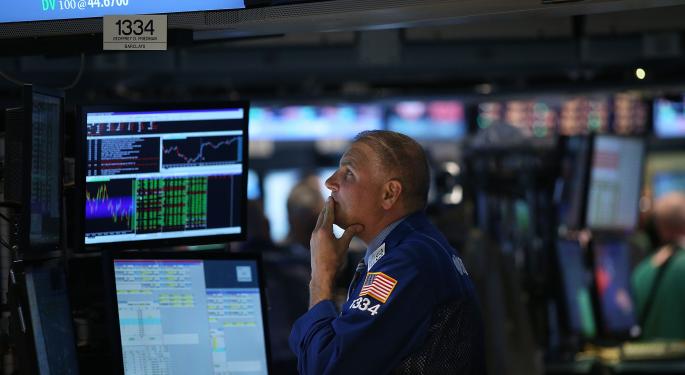 Insiders continue to take advantage of recent volatility to scoop up shares.
Ongoing insider buying at Aircastle, Opko Health and Sears Holdings continues.
Strong insider buying is often considered a positive sign for investors.
Insiders and beneficial owners are still taking advantage of the turmoil in the markets. Insider buying remains strong, ahead of the third-quarter earnings reporting that begins next week. Windows for many insiders will close until after financial results have been announced.
Conventional wisdom says that insiders and 10 percent owners really only buy shares of a company for one reason -- they believe the stock price will rise and they want to profit from it. Given the continuing volatility, it should be no surprise that executives, directors and others are leaping at new-found opportunities, even in beaten-down sectors such as energy and mining.
AGCO
One director purchased more than 247,000 AGCO Corporation (NYSE: AGCO) shares recently. At $45.73 per share, that totaled around $11.3 million. That director also bought more than 5 million shares last spring. UBS recently downgraded AGCO due to weak earnings prospects into 2016.
The market capitalization of this agricultural equipment maker is about $3.8 billion and the dividend yield is about 1.0 percent. Shares have dropped more than 19 percent in the past 90 days. The stock closed last Friday at $44.02, below the transaction price of the director's purchase.
See also: Buy Sirius Through Liberty Media, Says Buckingham
Aircastle
Japanese trading company Marubeni has resumed scooping up batches of jet-rental company Aircastle Limited (NYSE: AYR), as it has done for more than a year. That included more than 275,000 of them in the past week at between $20.03 and $20.47 apiece, or more than $5.5 million.
Aircastle's market cap is about $1.7 billion, and its shareholders enjoy a dividend yield of about 4.3 percent. The share price dropped sharply in August and has yet to fully recover. The stock ended last week at $21.18, so it appears to have been a well-timed buy.
Dominion Midstream Partners
Last week, parent Dominion Resources bought about $5.6 million worth of Dominion Midstream Partners LP (NYSE: DM) in four batches of around 52,000 units, between $26.35 and $27.69 apiece. Dominion Resources plans to buy $50 million worth in the next year.
This $2.1 million market cap company owns, operates, develops and acquires natural gas import, storage, regasification, transportation and related assets. Its dividend yield near 2.8 percent. The price per unit has been on the decline since late May and closed Tuesday's trading at $27.82.
Opko Health
The chairman continues to buy batches of shares periodically, as he has done for more than a year. He just picked up 100,000 Opko Health Inc. (NYSE: OPK) shares at prices between $8.35 and $8.38. That cost him more than $835,000. At least one analyst sees concerns as overdone.
This Miami-based health care company has a market cap near $4.9 billion. Note that short interest is more than 16 percent of the float. Shares ended trading on Friday at $9.10, up from a recent low of $8.20. Also note that the 52-week low is $8.02.
Sears
CEO Eddie Lampert returned to pick up more than 444,000 additional Sears Holdings Corp (NASDAQ: SHLD) shares last week at $23.00 to $24.21 per share. The total for those transactions came to more than $10.5 million. Lampert also has recently bought Lands' End shares.
This Illinois-based retailer has a market cap near $2.6 billion. Shares fared relatively well during the August sell-off but are off almost 25 percent year to date. The stock ended trading on Friday at $24.80, so it looks like another well-timed buy for Lampert.
See also: Icahn, Investors Bearish On Everything
Southern Copper
After buying 300,000 shares in August, the chairman has picked up another 150,000 shares of this Phoenix-based miner. The most recent shares ranged in price from $25.75 to $25.87, and the transactions totaled more than $3.8 million. Commodity forecasts led to a recent downgrade.
The market cap of Southern Copper Corp (NYSE: SCCO) is around $22.0 billion, and the dividend yield is about 1.5 percent. The share price closed most recently at $27.61, so here too these purchases appear to be well-timed.
At the time of this writing, the author had no position in the mentioned equities.
Keep up with all the latest breaking news and trading ideas by following Benzinga on Twitter.
View Comments and Join the Discussion!
Posted-In: AGCO Aircastle Dominion Midstream Partners Opko Health searsNews Insider Trades Trading Ideas Best of Benzinga