Can General Motors Regain Investor Confidence?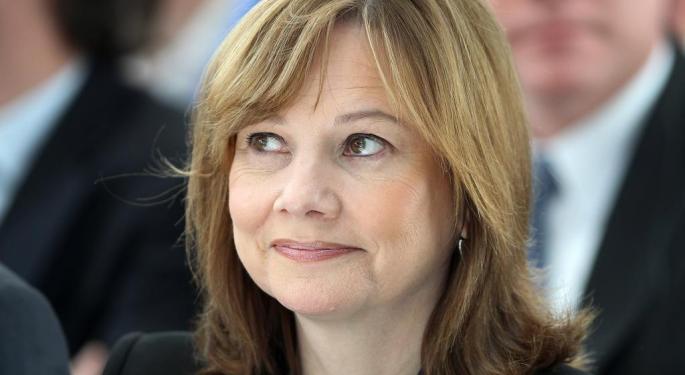 The past two years have been difficult for General Motors Company (NYSE: GM) as the firm navigated its way through what has been called the largest safety lapse in auto history. The company's faulty ignition switches were deemed to play a role in more than 100 deaths and the firm was forced to recall 30 million cars across the globe.
This month, GM agreed to pay $900 million in order to settle a criminal case with the Justice Department, which many believe marks the end of the ongoing scandal. However, GM's stock price has been sagging ever since the ignition switch issue, with share prices wavering just below $30. Now that the ignition switch issue has been resolved, CEO Mary Barra says the company is focusing on targeted growth to regain investors' confidence.
Connected Cars
One place GM has been focusing its efforts is connected cars. The demand for technologically advanced vehicles has been rising steadily and as more and more firms get closer to developing an autonomous vehicle, Barra said she believes connectivity will become paramount to success.
Related LInk: GM Reveals Personal Mobility Plan; Barra Sees Chance To Be 'Disruptor'
The firm has spent billions on developing connected car technology, and Barra says that investment is beginning to pay off. She claims that GM sold more 4G wireless cars during the first three days of June than the rest of the market delivered in the first six months of the year.
Targeting Specific Regions
Barra also said the firm is reworking its focus as it expands in other nations. Recent factory closures in Russia and Southeast Asia are a part of GM's plans to invest in regions that are capable of delivering high returns. At the moment, GM is targeting India as a growth market with an aggressive strategy to expand its Chevrolet brand by increasing its dealer network and expanding its manufacturing operations in the country.
Is It Enough?
It remains to be seen whether or not Barra can regain investor confidence and improve GM's reputation on Wall Street. The company has also been fending off Fiat Chrysler's advances as the Italian automaker works to entice GM into a merger. However, according to Barra, GM is financially capable of moving forward without such a deal and plans to continue going it alone, saying such a merger would not be in shareholders' best interests.
Posted-In: Mary BarraTop Stories Best of Benzinga
View Comments and Join the Discussion!