Visier CEO Started A BI Solutions Revolution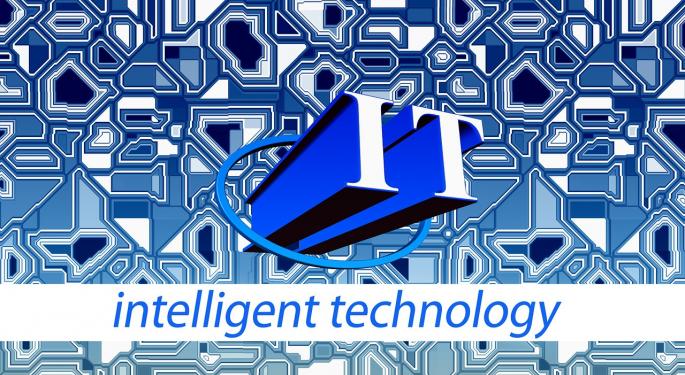 Visier provides business intelligence (BI) solutions to enterprise in a unique and cost-effective way, eliminating dependence on information technology, architects and data scientists.
The company has been doubling year-on-year and expects to continue to do so for the foreseeable future.
Although no initial public offering date has been announced, CEO John Schwarz said, "Targeting an IPO is a great way to get the kind of resources needed to be able to capitalize on [...] market opportunity."
At its founding, Visier, a cloud-based provider of workforce intelligence solutions, had a goal. According to CEO John Schwarz, the company wanted to turn business intelligence on its head.
Schwarz spoke with Benzinga about how the company is achieving that goal while cutting the cost of business intelligence solutions for large enterprise by as much as 95 percent.
Related Link: Visier Selected as 2015 HR Tech Conference "Awesome New Technology for HR"
Benzinga: Talk about how Visier came into being.
John Schwarz: I'll wax a little poetic because in that story lies the reason for Visier being and doing what does. I was CEO of Business Objects before Visier. We had about 35,000 customers and did many customer satisfaction surveys where we found some interesting dichotomies.
If we talked to the IT buyer, we got really good marks. Good technology, reliable, high quality, price was reasonable and so on.
However, the interesting problem with business intelligence technology as virtually everybody practices it today is that it delivers tools. Someone has to take these tools and build an application that end users can get some value from.
Therein lies a big problem. The end users are typically business people. They don't have the skills to do what is necessary to extract insight from the data using the BI tools.
Visier was born out of the realization that BI technology is not a suitable tool for business people. We decided to turn BI on its head, and approach it from a completely different perspective.
Our desire was to deliver a finished solution for the business end user, eliminate the dependency on IT, technologies, architects or data scientists.
That's what Visier is about. That's why we were founded.
BZ: Explain the analytics and planning solutions section.
JS: A typical business intelligence application has a data warehouse that collects data into, hopefully, a well-organized structure.
Then, it has a bunch of tools with which you can build your queries, dashboards, scorecards, reports or what have you. By definition, it's always backward looking, because it doesn't have the ability to project the future.
In order to project the future, you have to do two things. First, you have to build in the statistical formulas that allow you to take history and discern trends, and project those trends into the future.
Then, you have to build a set of models to allow you to say, "OK, I don't like the trend. What do I need to change to make the trends looks different in the future?"
BZ: How about an example?
JS: If I'm looking at employee turnover, for example, and have data that say people have resigned from the company over time, I would like to be able to say, "Who are the people likely to resign in the future?"
If I don't like what's happening in terms of these resignations, what levers do I have to pull to change the outcome, to help the people to decide to stay on board rather than resigning?
This is where Visier significantly differentiates itself. We don't only do the analysis of the history as any well-designed BI solution might – we also build in statistical analysis to figure out trends and give the customer the ability to model different future plans and outcomes.
BZ: What types of markets do you serve? Who are your customers?
JS: We sell to enterprise. Our customers are typically large companies, more than 2,000 employees. It doesn't matter what industry sector they happen to be in.
As long as you have an organization that has a significant number of people, and you need to figure out what to do with these people, we are a great solution.
BZ: Will human resources always be your only focus?
JS: That is our initial market entry. Our targeted domain is workforce management, but it's one of many potential domains Visier could attack with our solution and our technology.
We could, in essence, deliver the same solution we currently deliver for HR in finance, sales or marketing. We could link the employee data that we currently have with the business data and start designing analysis that deals with business outcomes and how employees affect or influence those business outcomes.
So, we could go from what is about a $6 billion market opportunity to what will be a $35–$40 billion market opportunity in the future.
BZ: What's Visier's growth plan?
JS: We have been growing, doubling the company year-on-year, and expect to do so for the foreseeable future. The demand is incredible.
We have about 20:1 economic advantage over the current way of solving the problem. It's not only in the cost. It is also a 20:1 advantage in terms of time to value for the customer.
Related: The Future Organization: Visier Talent Advisor Takes the Guesswork out of Manager Decision Making
BZ: Explain how that works.
JS: If you think about a typical business intelligence project, you're looking at an 18 months to two-year deployment cycle, and you're looking at a $5–$10 million investment to get there. There is, by the way, close to 50 percent risk that you will not meet objectives in those projects.
We deliver our solution for roughly 1/20th of that cost, and we deliver it in under two months. Given that, I'll argue that the growth opportunity is only limited by our ability to get resources to capitalize on it.
Of course, targeting an IPO is a great way to get the kind of resources that you need to be able to capitalize on the market opportunity. (That said), I don't think I would want to project today that we are ready for an IPO or speculate on when we might be.
BZ: Final thoughts?
JS: With the cost of deploying a Visier solution roughly 5 percent of what it would cost using a traditional approach and the time for getting value from an investment at two months versus two years, or even longer, we believe we are disrupting the market in a significant way.
These kinds of economic advantages always generate a revolution. I think we're at the beginning of that revolution.
At the time of this writing, Jim Probasco had no position in any mentioned securities.
Image Credit: Public Domain
View Comments and Join the Discussion!
Posted-In: Business Intelligence IPO IT John SchwarzSuccess Stories Exclusives Tech Interview Best of Benzinga