Betting On More Than The Game During Football Season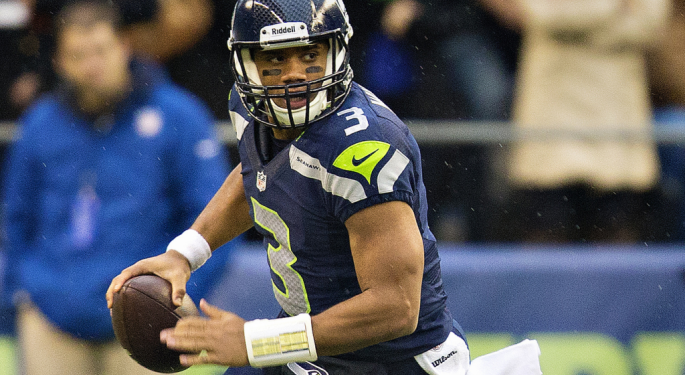 On Thursday, the New England Patriots will host the Pittsburgh Steelers for the 2015 NFL Kickoff Game. The game marks the beginning of the National Football League's regular season and despite several high-profile scandals, the league's sponsors are ready and willing to shell out millions to be a part of the 2015-2016 season.
Sponsorship Up
This year the league expects sponsorship revenue to rise to over $1.3 billion; around a 15 percent increase. That figure is supported by the NFL's largest sponsors Verizon Communications Inc. (NYSE: VZ), which spends around $250 million, PepsiCo (NYSE: PEP) which shells out $200 million, and Anheuser-Busch InBev (NYSE: BUD) and Microsoft Corporation (NASDAQ: MSFT) which spend around $100 million each to be a part of the season.
Who To Watch?
While big investments mean more exposure to the masses of U.S. football fans, there are several other companies with their fingers in the football jar who stand to benefit. Under Armour Inc (NYSE: UA) is expected to see a boost this year after the company expanded its sponsorship deal with the NFL to provide cleats and gloves on game days. Athletic apparel giant Nike Inc (NYSE: NKE) will also benefit from this year's football season as the company has signed on to be the league's official jersey provider through 2019.
Related Link: NFL, CBS Cater To Viewers Who Are Cutting The Cord
As far as telecoms go, the NFL is likely to bring in big bucks for both Walt Disney Co (NYSE: DIS) and CBS Corporation (NYSE: CBS). Disney owns ESPN, a premium channel that sports fans around the US subscribe to. Despite a shift toward online streaming, many analysts believe that the channel will be able to continue attracting customers with favorite programs like "Monday Night Football" and new offerings that bridge the gap between online streaming and traditional cable
CBS is also a big winner when it comes to football as the company holds the broadcasting rights for Super Bowl 50 in February. Earlier this year, the company said advertisers are willing to pay up to $5 million for a coveted 30-second spot during the big game, a major revenue booster for the telecom.
NFL Struggles To Renew Its Image
However, some investors are cautious ahead of this year's football season as the NFL has been the center of several controversies over the past few months. A survey by YouGov BrandIndex showed that the NFL's brand appeal fell to just 7 from a score of 17 last year. Much of that decline can be associated with accusations of unfair practices between top teams and negative press following players' personal problems.
While the league hasn't shown any signs of slowing down in the wake of several controversial scandals, some believe that big brands associated with the NFL could suffer if the organization doesn't start to crack down on poor behavior.
Image credit: Larry Maurer, Wikimedia
Posted-In: National Football League nflTop Stories Trading Ideas Best of Benzinga
View Comments and Join the Discussion!