European Markets Still Uncertain With Greek Elections On The Horizon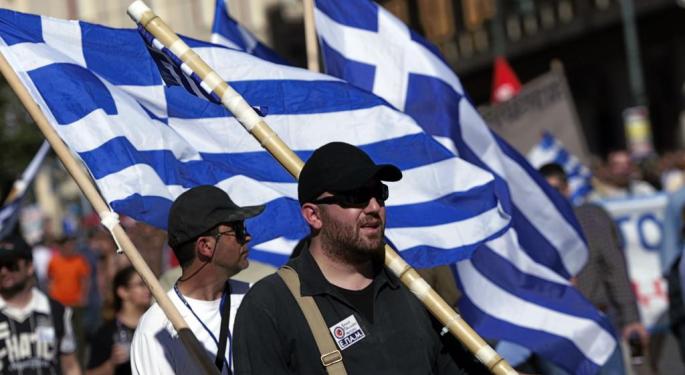 This weekend, Greeks will head to the polls to elect a new parliament in the wake of the nation's turbulent bailout negotiations. This weekend's vote represents another big turning point in Greece's debt saga as the anti-austerity Syriza party is favored to win, albeit without an overall majority.
Tsipras And Syriza Create Chaos
Although EU leaders and Greek officials have already agreed to a bailout agreement, Alexis Tsipras has promised to continue fighting for a debt write down. The European Central Bank and Greece's eurozone creditors have been adamantly against such an idea, but Tsipras claims that a write down is necessary to allow the Greek government to increase spending and stimulate the economy. Many worry that if Tsipras regains power, talk of a Grexit will be back on the table.
Related Link: An International ETF That Has It All (And It's Cheap)
Investors Anxious
The outcome of this weekend's elections will almost certainly create chaos in European markets. Even if Greek Prime Minister Antonis Samaras and the New Democracy party take power, they will be forced to make unpopular cuts in order to satisfy the nation's creditors. Greece is likely to suffer through another period of social and political instability as the nation's bailout program progresses.
Time To Invest?
Although the election could result in another quarrel between Syriza and EU lenders, most believe that it is in neither party's best interest to allow Greece to leave the eurozone— making a Grexit an unlikely outcome. For that reason, some investors believe that now could be a good time to re-enter European markets.
Many analysts say that investing directly in Greece is a risky bet as capital controls have stifled business transactions and uncertainty still plagues the market. However, economists at Renaissance Capital say that other parts of Europe could still be a smart play. Countries in Central Europe like Romania, the Czech Republic and Poland have been largely unaffected by declining currencies and uncertainty in China, making them an appealing play for investors looking for an emerging market safe haven.
View Comments and Join the Discussion!
Posted-In: Alexis Tsipras ecb GreeceNews Eurozone Global Markets Trading Ideas Best of Benzinga