EU GDP Data Paints Uncertain Picture For The Future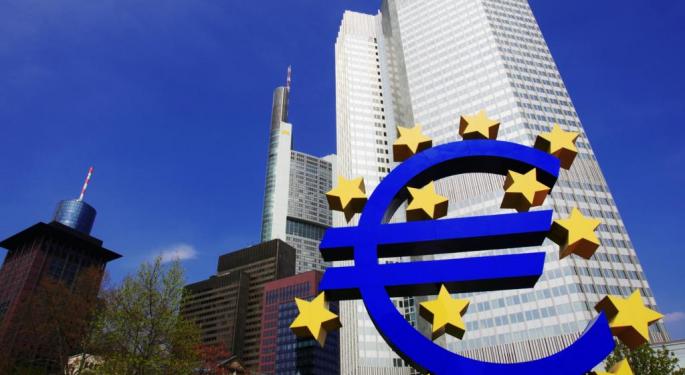 GDP figures released on Friday confirmed what many economists were expecting, that the EU was still struggling to get back on its feet despite the European Central Bank's best efforts. Though some of the bloc's members posted impressive figures, others proved that the recovery continued to be uneven across the region.
Germany And France
Germany and France, the bloc's two largest economies, underscored how recovery efforts were not affecting all EU members equally. German GDP improved in the second quarter, increasing 0.4 percent from the 0.3 percent rise in the first quarter. The figure was still below estimates of 0.5 percent growth, but was recognized as an improvement nonetheless.
However, French GDP was unchanged from the first to the second quarter, proving that there is still a large divergence between the two nations' recoveries.
Missed Expectations
The bloc's combined GDP slowed to 0.3 percent growth, down from 0.4 percent in the first quarter and below forecasts of a 0.4 percent rise.
The figure was a disappointment to those who believed the eurozone was on a steady path to recovery and could shake investors' confidence in the region moving forward.
Consequences
The underwhelming GDP figures could impact the European Central Bank's plans to end its €60 billion per month bond buying program in September. The bank may decide to extend its quantitative easing efforts well into the new year in order to give struggling economies more time to gain their footing.
The data could also have an impact on the US Federal Reserve's tightening plans as weakness in the eurozone will compound worries about the global economy. With China and Japan struggling as well, the US is left on its own as a driving force behind the global economy.
Posted-In: News Eurozone Global Top Stories Markets Best of Benzinga
View Comments and Join the Discussion!