Great Lakes Region Hit With Temporary Gas Price Hike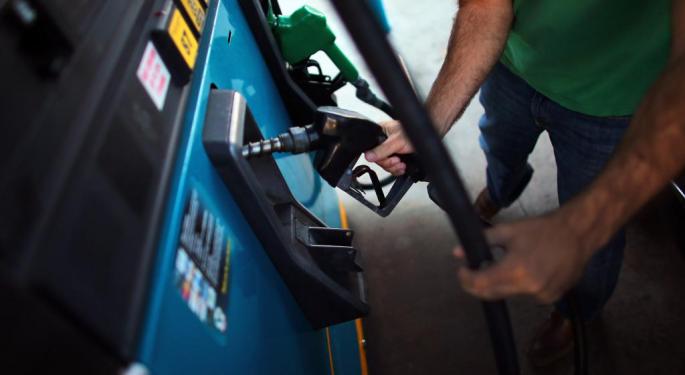 Over the past weekend, the BP plc (ADR) (NYSE: BP) refinery in Whiting, Indiana suffered a malfunction in a 240,000 barrel per day crude distillation unit (CDU).
The malfunction caused the company to shut the unit down for the next seven to 12 days.
Great Lakes Area Impacted
At a time of declining gas prices – expected to go below $2 per gallon by December, according to GasBuddy.com – the Great Lakes area will, instead, see an increase of 15 to 30 cents per gallon for the next week or so.
The Whiting refinery, located 20 miles southeast of Chicago, has a capacity of 430,000 barrels per day.
The recent malfunction cut that by more than half and will likely boost gasoline prices in Illinois, Michigan, Indiana, Ohio and Wisconsin – with some limited "sympathy moves in bordering states" according to GasBuddy Senior Petroleum Analyst, Patrick DeHaan.
Related Link: GasBuddy: It's All In The (Price) Spread
Largest Refinery In The Midwest
DeHaan told Benzinga that BP's Whiting is the seventh-largest refinery in the United States and the largest in the Midwest.
"Gasoline inventories are very much 'just-in-time,'" DeHaan noted adding, "so when the largest supplier in the region suddenly sees output drop by more than 50 percent, demand immediately greatly outpaces supply."
No Help From Other Refineries
Asked why other Midwest refineries couldn't pick up the slack, DeHaan referenced last week's Energy Information Administration report, which indicated those refineries were already running at 100 percent.
"Additional supply," he said, "will likely start flowing up pipelines from the Gulf Coast, but will take five to seven days to hit."
BP's Has Incentive To Get Back In The Game
The good news, according to DeHaan, is that any price increase is likely temporary, especially considering the fact that the price differential between the raw crude and products refined from that crude (known as crack spread) is at a high level.
"You can bet with crack spreads healthy," DeHaan noted, "BP is trying to return to normal operations ASAP."
A Speed Bump
"This is just a speed bump," he said. "In a couple of weeks if the refinery is restored to normal, prices will cool back down."
"The big headache is gone after Labor Day," DeHaan said, "(There will be) a slowdown in demand and a switch to cheaper winter gasoline September 16."
In the meantime, price-conscious consumers can track current gas prices on a station-by-station basis by using the free GasBuddy pricing app.
At the time of this writing, Jim Probasco had no position in any mentioned securities.
View Comments and Join the Discussion!
Posted-In: Energy Information Administration GasBuddy Patrick DeHaanTravel Economics Exclusives General Best of Benzinga