Barron's Recap: A Look At Japan's Blue Chips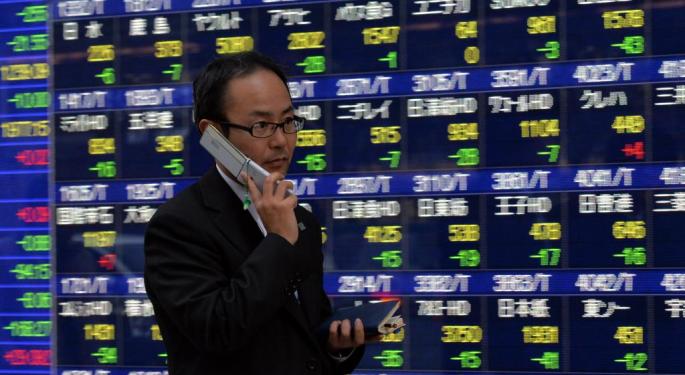 This weekend in Barron's online: why it is time to buy Japan's blue chips, when Iraqi oil will hit the markets, how the unemployed are counted, as well as the prospects for Motorola Solutions, Old Dominion Freight Line, Energizer and more.
Cover Story
"Time to Buy Japan's Blue Chips" by Jack Hough.
This week's cover story in Barron's points out that big Japanese companies such as Toyota Motor Corp (ADR) (NYSE: TM), Hitachi and Nippon Telegraph & Telephone Corp (ADR) (NYSE: NTT) are reforming, and it makes the case that as they grow more efficient, profits will be unleashed and share prices will see gains of 30 percent or more.
See also: What's Better For The World: Bailout Or Grexit?
Feature Stories
"Paging a Recovery at Motorola Solutions" by Leslie P. Norton says that as demand grows for the devices and systems from Motorola Solutions Inc (NYSE: MSI), its shares could deliver a total return of more than 45 percent.
Craig Mellow's"Iran's Rocky Path Back to Oil Potentate" suggests that even if international economic sanctions on Iraq are lifted, it will not result in a flood of new oil supply anytime soon as the country still needs billions in investment from wary energy companies.
In "Piggyback on This Stock's Ride Higher," Sandra Ward indicates that shares of Old Dominion Freight Line (NASDAQ: ODFL) may have been dragged down, but as it gains ground against rivals the trucking company's shares are likely to deliver solid upside.
Are the unemployment numbers being undercounted or overcounted? "Refresher Course: Inside the Jobless Numbers" by Gene Epstein examines how the Bureau of Labor Statistics gathers and calculates the numbers, as well as discusses why it matters.
In David Englander's "Recharging the Energizer Bunny," see why jettisoning its consumer-products unit should allow Energizer Holdings, Inc. (NYSE: ENR) to focus on its core battery market, boosting margins and cutting costs.
See "The Big Picture," in which Reshma Kapadia profiles John Maxwell of Ivy International, offering a look at how Maxwell considers long-term themes, economic cycle, valuations and dividend yields in his search for 70 to 80 great stocks.
"Still Bullish, After All These Years" by Lawrence C. Strauss looks at why Rebecca Patterson, chief investment officer of Bessemer Trust, thinks the expansion could run longer and is making a move to large caps. She also names some of her current picks.
Find out why one Merrill Lynch advisor sees growth ahead for the big U.S. firms, in Steve Garmhausen's "Advisor Christina Boyd Is Bullish on Blue Chips." This Minnesota native offers best advice for achieving outperformance with lower volatility.
Robert Milburn's Penta article "Overpaying for Financial Advice" features the results of a study that reveals some 13 percent of decamillionaires are paying more than 1 percent for their financial advisor. Barron's thinks that is too much.
"Greece and Iran Provide Fantastic Challenges" is an editorial commentary by Thomas G. Donlan that suggests international diplomacy and the rule of international law are poor substitutes for honest dealing among nations.
In Barron's Asia: "What's Ahead for Asia's Emerging Markets" by Kopin Tan features Alexander Muromcew of TIAA-CREF discussing why he currently likes India, Korea and certain Internet and tourism stock picks.
See also: 3 Google Employees Injured In Self-Driving Car Crash: What's Next For The Industry?
Columns
Columns in this weekend's Barron's discuss:
The gains following receding crises and Google Inc (NASDAQ: GOOGL) results
Whether the biotech bubble is about to burst
Whether Intel Corporation (NASDAQ: INTC) is in trouble
The Deutsche Bank CROCI system for evaluating company performance
Whether Vanguard will launch active exchange traded funds
Dividend hikes in the past week
The unemployment situation now versus in the past
How advances in glassmaking led to modern science
At the time of this writing, the author had no position in the mentioned equities.
Keep up with all the latest breaking news and trading ideas by following Benzinga on Twitter.
View Comments and Join the Discussion!
Posted-In: Barron's energizer Google Intel motorola solutions Old Dominion Freight LineNews Media Best of Benzinga