Greece Receives Bailout Deal: Now What?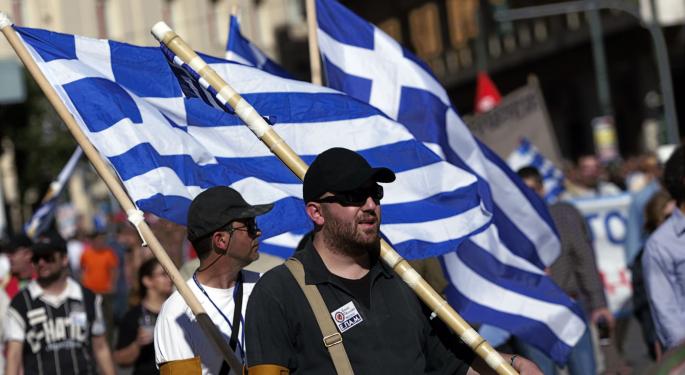 After all-night talks on Sunday, eurozone leaders and Greek officials were able to reach an agreement to unlock desperately needed bailout funding for Athens.
However, many believe that this weekend's agreement calls for even tougher belt-tightening measures than the Greece's EU creditors had initially required, leaving Greeks to wonder whether the left-wing Syriza government has mislead them.
Confusing Referendum
Last week, Greek voters backed Prime Minister Alexis Tsipras in rejecting the nation's creditors' bailout proposals when he claimed that a 'No' vote would give him the bargaining power he needed in order to work out a better deal. However, after the initial plan was rejected Tsipras drafted his own proposal which proved to be even tougher.
Related Link: U.S. Treasury Secretary Jack Lew Talks Greece, China
Strict Reforms
The agreed upon reform package includes a long list of reforms that the nation must carry out in order to receive the aid. Despite Tsipras' promises to maintain the nation's pension scheme, the new deal requires an extensive overhaul of the program. The deal also requires the nation to rework its public sector and make several amendments to its tax system, all of which Greek voters vetoed in last week's vote.
Shipping Industry Worried
One of the biggest blows to Greek voters was Tsipras' agreement to raise taxes on the nation's shipping industry, a backbone of the nation's economy. The new agreement promises to do away with tax exemptions that shippers have enjoyed the past as well as raising the amount that shippers owe per ton of shipped goods.
In response to the new rules, shipping companies in Greece have said they will take their operations elsewhere to avoid the taxes. The new taxes would make places like London and Dubai attractive for Greek shippers who are concerned about their competitiveness under the new rules.
Posted-In: Alexis Tsipras GreeceNews Eurozone Global Markets Best of Benzinga
View Comments and Join the Discussion!