Greeks Vote 'No' To Bailout, Grexit Risk Might Have Just Increased
Nearly all of the submissions have been counted in Greece's referendum poll Sunday, and the results have surprised some experts. More than 60 percent of the nation's votes said "no" -- or "Oxi" in Greek -- to bailout terms offered by the IMF, ECB and European Commission.
While that doesn't solidify a "Grexit" from the eurozone, it does indicate negotiations will need to be restarted between the struggling nation and creditors if Greece is to remain in the eurozone and stay on the euro.
BBC reported France's President Francois Hollande and Chancellor of Germany Angela Merkel are calling for a summit to discuss next steps on Tuesday.
Of note, Marathon Asset Management's Bruce Richards recently told Wall Street Week a "yes" vote would be "a very positive thing for Europe...it's a very positive thing for Greece and that's the base case."
Nobel economist Christopher Pissarides told reporters last week he was hoping for an affirmative vote "to show that the Greeks do want to stay in the euro," adding it indicates "they want to sit down at the negotiating table and work out something feasible for the benefit of both Europe and Greece."
Only time -- likely the next few days -- will tell if Sunday's dismissal of bailout terms will boost Greece's negotiating power with creditors.
How Everyone Is Reacting
Here's what the world is saying this evening. One Oxford professor reportedly said the risk of a "Grexit" is now higher than ever.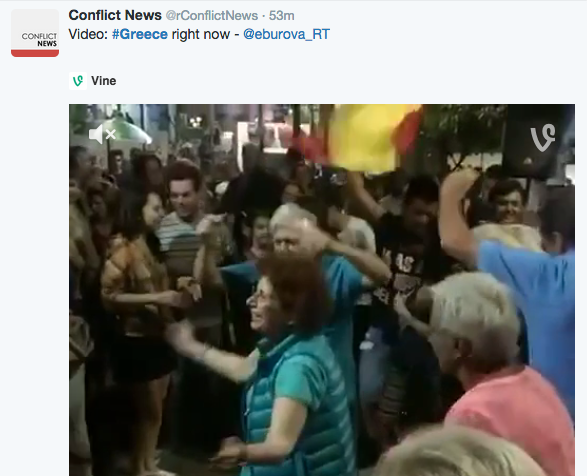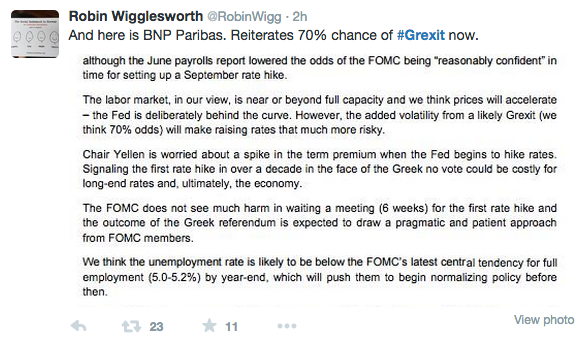 View Comments and Join the Discussion!
Posted-In: Greece votes no Grexit Referendum voteBonds Eurozone Forex Economics Markets Best of Benzinga