Economist Previews Jobs Day, Notes 'Output Per Worker Is Dropping'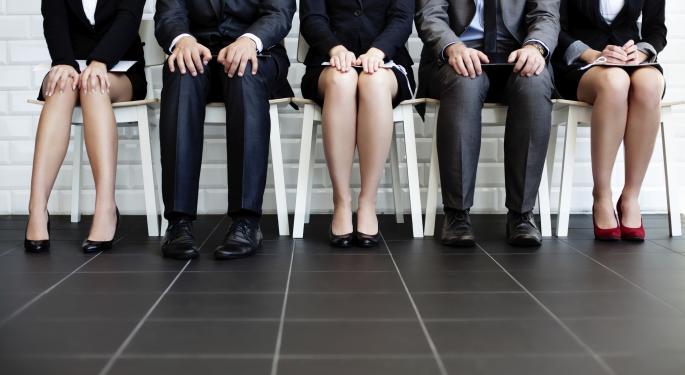 The Bureau of Labor Statistics will release its U.S. employment numbers for the month of June on Thursday at 8 a.m. EST. Among the figures that will come out are nonfarm payrolls, unemployment, labor force participation and wage growth.
After a substantial beat on projections for May, observers of the domestic economy are hoping for another strong month. Consensus estimates for nonfarm job creation, perhaps the most-watched Jobs Day data point, sit at 230,000. May saw 280,000 newly employed U.S. residents.
Benzinga spoke with Tara Sinclair, Chief Economist at Indeed, to get her thoughts on the numbers.
Looking For Labor
Sinclair said that employers are looking to hire, so a lack of job postings is unlikely to have been a hindrance to job growth in June. Rather, she thinks the question will be whether or not "they can find workers to find those positions."
But this propensity to hire could soon be under threat, according to Sinclair. She noted that strong employment growth in the first quarter was paired with economic contraction.
"The simple math," Sinclair said, "is that output per worker is dropping."
The economist warned that productivity would need to tick up to encourage employers to continue seeking out new workers.
Related Link: ISIS And Investment: How Terrorism Strikes The Global Economy
What To Watch For
Sinclair highlighted mining, oil and gas as sectors to watch on Thursday. She was curious to see whether job growth in those industries would pick up, as global oil prices have finally stabilized after a long period of decline.
Sinclair also said that "we are still watching manufacturing very closely."
Eyes On The Fed
Besides nonfarm payrolls, Sinclair mentioned wage growth and labor force participation as key figures in hinting at Fed policy.
Sinclair thinks "the Fed is zooming in on wages...really [wanting] to see how fast they're growing." If wages rose substantially, she said, "it [would suggest] that we're closer to full employment," with employers having to pay significantly more to attract new workers, and thus more likely to see a rate hike in September.
Similarly, according to Sinclair, if labor force participation undergoes negligible growth, it would suggest that the U.S. economy was approaching full employment and indicate to the Fed that it could raise interest rates amidst a healthy job market.
But given that labor force participation is near historically low levels, Sinclair said that she would rather see a big jump in the number than a modest increase. She noted that even if unemployment went up, it would still be a positive event if that movement were triggered by people entering the workforce.
Posted-In: Bureau of Labor Statistics IndeedPreviews Top Stories Economics Exclusives Trading Ideas Interview Best of Benzinga
View Comments and Join the Discussion!