Supreme Court Rejects Google's Appeal Of Java Copyright Ruling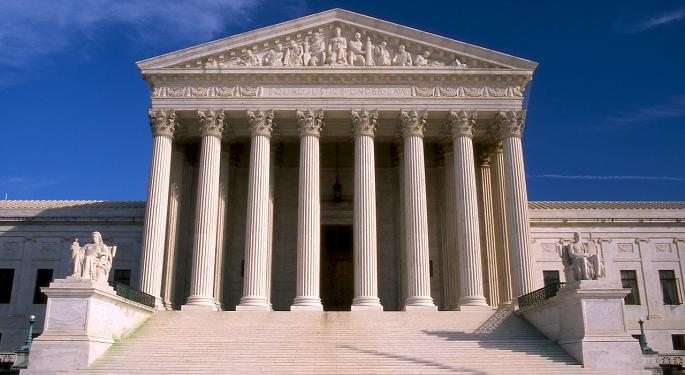 Just days after the U.S. Supreme Court's historic ruling legalizing same-sex marriage, the nation's highest court rejected an appeal by Google Inc (NASDAQ: GOOG) (NASDAQ: GOOGL) to overturn a copyright ruling that could put Google on the hook for roughly $1 billion in licensing fees.
The original lawsuit, filed by Oracle Corporation (NYSE: ORCL) in 2010, revolves around Google's use of Oracle's Java language.
The Story
A San Francisco Federal judge originally ruled in favor of Google, stating that Java application program interfaces (APIs) replicated by Google in its design of the Android smartphone operating system were not subject to copyright protection and were fair game for anyone wishing to use them.
However, the U.S. Court of Appeals for the Federal Circuit reversed that decision last year, explaining that the APIs are subject to copyright protection "until either the Supreme Court or Congress tells us otherwise."
Related Link: Oracle Vs. Google Is Coming Up...Again
What Now?
Although the ruling was certainly a step in the right direction for Oracle, Google's appeal now heads back to San Francisco Federal Court, where Google will pursue its "fair use" defense. The resolution of the case could have a wide-reaching impact on the tech world, as it will set a legal precedent when it comes to copyrighting the application program interfaces that connect programs.
Sides Weigh In
Both companies involved claim to be fighting on the side of innovation. Oracle's General Counsel Dorian Daley said on Monday that the Supreme Court's rejection of the appeal is a "win for innovation."
Google, on the other hand, issued its own statement on Monday. "We will continue to defend the interoperability that has fostered innovation and competition in the software industry," the statement reads.
Image Credit: Public Domain
Posted-In: Android Dorian Daley Java Reuters Same-Sex MarriageLegal Top Stories Tech Best of Benzinga
View Comments and Join the Discussion!