Get Connected To Your Home With Alarm.com's IPO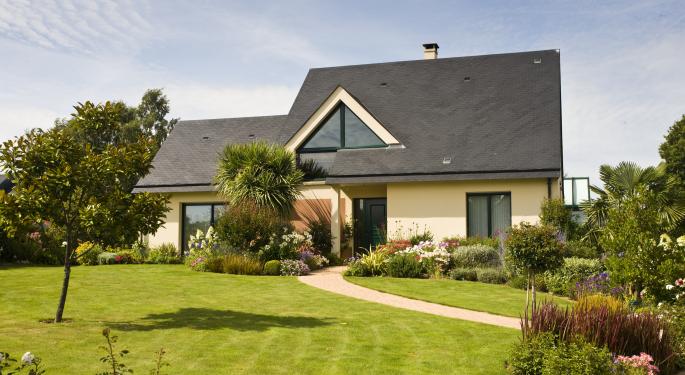 Alarm.com, a provider of wireless and web-enabled system security technology, plans to raise $ million in its upcoming IPO this Friday June 26. The company priced 7 million shares $14 per share. It is listed on the NASDAQ under the ticker ALRM.
AlarmCom Hldg Inc (NASDAQ: ALRM)'s public debut comes at a time when the connected home is hitting the mainstream and more companies are entering this space seeking to dominate everything from security to lights to thermostats and more.
The company started in 2000 as part of MicroStrategy's R&D unit and eventually became Alarm.com. Alarm.com pioneered its cloud-based services platform to offer home and business owners interactive security, video monitoring, energy management, home automation, and wellness.
Alarm.com has grown rapidly since inception with more than 2.3 million residential and business subscribers and over 5,000 service providers that resell Alarm.com solutions, and has a network of more than 25 million connected devices. The company's residential subscribers are mostly single-family homes. Its business subscribers are mainly retail businesses, restaurants, small-scale commercial facilities, and professional service providers.
Alarm.com is reinventing automation and security monitoring for homes and businesses. The company capitalizes on four main technology trends: the large use of mobile devices, the Internet of things with connected devices, big data and analytics, and the cloud. Alarm.com is connecting security systems, door locks, thermostats, lights, video cameras, garage doors, appliances, and more.
As this technology and its benefits become more mainstream, demand will continue to rise as users take on a new experience never felt before. According to data from a Park Associates 2014 survey, "67 percent of all broadband households find smart home features very appealing."
Related Link: AppFolio IPO Focuses On Property Managers And Legal Companies
A couple examples noted in the company's S-1 of how customers interact with Alarm.com's platform include:
"A person driving to work gets an alert as soon as she is a mile away from home, notifying her that the garage door is open, and her security system is disarmed. With one click in the Alarm.com mobile app, the security system is armed and the garage door is automatically closed"
"After a person leaves home, his thermostat is automatically set to an efficiency mode when he is a pre-defined distance away from his home. Later when he is returning and near his home again, Alarm.com technology automatically adjusts the thermostat back to a comfort mode"
Alarm.com operates in a large, expanding market. According to a Juniper Research report from February 2014, "the global opportunity for home automation and security, smart metering, and smart health monitoring in the home is expected to grow from $5.8 million in 2013 to $14.9 billion in 2018, representing a CAGR of 21 percent. Approximately 81 percent of the total market size in each period is attributable to the home automation and security market, which Juniper Research defines as a bundled solution, including camera, lighting, heating control, door locks and others."
In April 2015, Parks Associates revealed "smart home controller penetration was only 7.8 percent of U.S. households in 2014." Alarm.com believes that this presents a large opportunity to gain market share driven largely by the mass market adoption of connected home solutions as more households look to upgrade. It also believes the same to happen in terms of the opportunity to capitalize on servicing businesses as well.
Financials
The company has enjoyed year over year revenue growth. Alarm.com's revenue sources include SaaS and license revenue (the majority) and hardware and other revenue. Revenue in the first quarter this year grew by 24.9 percent to $46.0 million from $36.9 million a year earlier. The increase was attributed to a growth in subscribers and more video cameras, thermostats, image sensors, and peripherals sold. Revenue also increased from 2012 to 2014 from $96.5 million to $167.3 million.
Net income has been positive throughout the last three years. Between Q1 2014 and Q1 2015, net income declined slightly from $4.3 million to $3.0 million. However, for the full year periods between 2012 and 2014, net income grew from $8.9 million to $13.5 million.
Alarm.com has noted its quarterly SaaS and license revenue has increased progressively for all periods driven by its service provider's effectiveness in reselling the company's services. It has experienced seasonality in its hardware and other revenue in the second and third quarters due to a small number of its biggest service providers that use a summer business model to bring in the most sales.
Alarm.com has a strong balance sheet. At the end of the Q1 this year, the company had $39.2 million in cash. Total assets and liabilities were reported at $126.7 million and $42.5 million. The company believes that its current cash and cash flows from operating activities will be enough to get the company through the next 12 months.
The company was acquired by VC firm ABS Capital for $27.7 million in 2009. The firm owns 41.6 percent of Alarm.com and post IPO will own 33.1 percent. Shortly after the company hit the 1 million customer mark, VC firm Technology Crossover Ventures invested $136 million in the company for a 42.9 percent stake. Technology Crossover will have a 38.2 percent equity stake after the IPO.
Competition
Alarm.com notes in its S-1 that "the market for connected home solutions is fragmented, highly competitive and constantly evolving." It expects competition to come from not only existing players but new entrants as well. The company's primary competitors include iControl Networks and Honeywell International. iControl supplies technology to ADT Pulse and Xfinity Home and just recently launched its own security dealer business.
Another competitor, Google (NASDAQ: GOOGL), acquired smart thermostat startup Nest in 2013 for $3.2 billion. DropCam was acquired by Nest and offers video monitoring. Also entering the field is the largest company in the U.S., Apple (NASDAQ: AAPL), which is aiming to launch its HomeKit platform later this year.
Conclusion and Pricing Info
Alarm.com operates in an industry this is expected to grow significantly in both the residential and business. Growth has been strong at Alarm.com, with rising revenues, profits, and good cost control processes. The company must continue to innovate and expand domestically and internationally in order stand above the competition.
Alarm.com proceeds are $98 million, and expects to use the proceeds for working capital and general corporate purposes.
The main underwriters include Goldman Sachs, Credit Suisse, and BofA Merrill Lynch, and will list under ALRM on the NASDAQ.
Interested in trading this IPO? Check out IPO Guru on Marketfy and get our free newsletter!
Posted-In: Alarm.comNews Previews IPOs Trading Ideas Best of Benzinga
View Comments and Join the Discussion!