Under Armour Is Accumulating Quite An Athlete Portfolio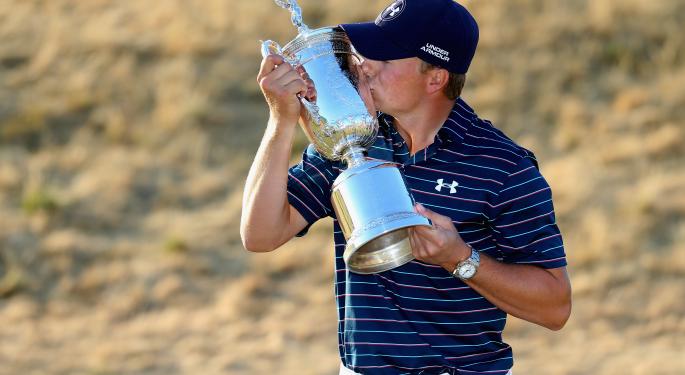 On Sunday, Jordan Spieth became just the sixth golfer to win both the Masters and the U.S. Open in the same year. However, the 21-year-old Texan was not the only winner at Chambers Bay this weekend.
Spieth's success so far this year has served to further solidify the all-star roster of pro-athlete endorsers that Under Armour Inc (NYSE: UA) currently has under contract.
The Under Armour Roster
Not only does Under Armour have an endorsement contract with the 2015 Masters and U.S. Open golf champion, it also has NBA MVP and world champion Steph Curry on its team. Now that the U.S. Open and the NBA Finals are over, much of the attention in the sports world will shift to baseball, where reigning 2014 Cy Young winner Clayton Kershaw and leading 2015 MVP candidate Bryce Harper are both under contract with Under Armour.
Once NFL football season rolls back around, attention will shift to Super Bowl champion quarterback Tom Brady, also an Under Armour endorser.
Related Link: DA Davidson: Time To Buy Under Armour
Targeting A Younger Demographic
According to Darren Heitner, owner of sports and entertainment consulting company Dynasty Dealings, Spieth, Harper and Curry are part of an Under Armour strategy targeting young athletes that appeal to a younger demographic of consumers.
"UA strategically inserted itself with a select few younger athletes with major potential, whom have been risks worthwhile in taking," Heitner told Benzinga. "The younger demographic associates well with sports' younger superstars, which should only help the UA brand continue to grow as that demographic wants to emulate the strong skill set of those athletes."
Selecting Brand Ambassadors
Retail markets expert Kristin Bentz, President of Talented Blonde, LLC, said the company has "systematically cherry picked brand ambassadors with a relatively modest budget compare to their peers," which maximizes return on investment.
Under Armour is doing the same in Women's sports as well, with "power houses" like Gisele Bundchen, Misty Copeland, Lindsey Vonn, and Sloane Stephens, Bentz added.
"These clever endorsements, along with a seriously strong footwear campaign that continues to gain market share, [show the company] is a serious contender as a global leader in athletic apparel and footwear."
The Competition
Despite the recent success of Under Armour's athlete endorsers, competitor Nike Inc (NYSE: NKE) remains the gold standard in the sports world when it comes to athlete endorsements. In addition to the most iconic basketball player of all time, Michael Jordan, Nike also has endorsement deals with LeBron James, Kobe Bryant and Kevin Durant.
When it comes to golf, Under Armour may have Spieth, but Nike has deals with Tiger Woods and Rory McElroy.
On the diamond, Nike has deals with 2014 MVP Mike Trout, Yankee legend Derek Jeter and former MVP Albert Pujols.
Stock Performance
So far this year, the success of Under Armour's athlete endorsers has been reflected in the company's share price. Under Armour has surged 24.2 percent in 2015, more than doubling Nike's 11.2 percent return year-to-date.
Posted-In: Darren Heitner Jordan Spieth NBA Steph CurryMovers & Shakers Top Stories Exclusives General Best of Benzinga
View Comments and Join the Discussion!