Tesla Picks Up Added Government Subsidies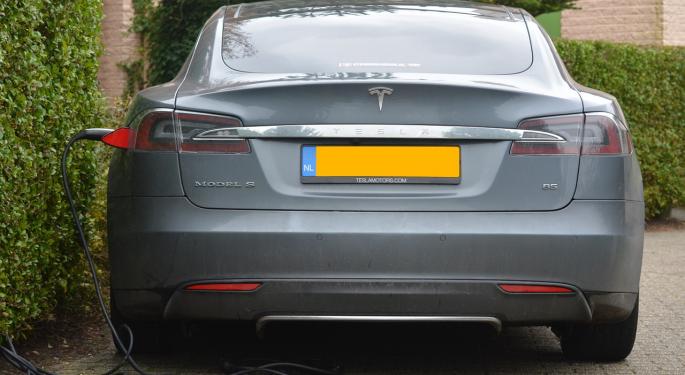 Tesla Motors Inc (NASDAQ: TSLA) picked up another $16 million in tax subsidies Friday from California's state government.
The tax breaks, expected to help add 4,000 jobs to the Bay Area economy, add marginally to the $4.9 billion grand total of government support enjoyed by Elon Musk's stable of companies, according to the Los Angeles Times.
The state and federal largesse extends to Tesla as well as SolarCity Corp (NASDAQ: SCTY) and Space Exploration Technologies Corp., and includes grants, discounted loans, environmental credits and other incentives.
Is The Largesse Necessary?
Nevada alone will provide Tesla with $1.3 billion in incentives to help build its "Gigafactory" near Reno.
Related Link: Tesla's Gigafactory Looks Really Freaking Huge
"A looming question is whether the companies are moving toward self-sufficiency and whether they can slash development costs before the public largesse ends," according to the Times.
Musk told CNBC earlier this month that the Times' calculations are incorrect, and incentives obtained by his companies are "helpful but not necessary."
A Different Perspective
Good Jobs First, a watchdog group that broadly tracks corporate subsidies, believes that such incentives in general are only marginally effective as economic development tools.
"States should focus most of their energies on those other major factors that make economies thrive for all businesses," Good Jobs said, citing education and transportation infrastructure.
Good Jobs has opposed certain Tesla incentives in the past.
Tesla's latest incentive package was approved by economic development officials in California on Thursday, as part of a much larger, $50 million package earmarked for more than 60 companies.
Image Credit: Public Domain
Posted-In: California Elon Musk Good Jobs First Los Angeles Time Space Exploration Technologies CorpRumors Top Stories Tech Best of Benzinga
View Comments and Join the Discussion!