Bank Of Canada: Greek Default Now 'More Likely'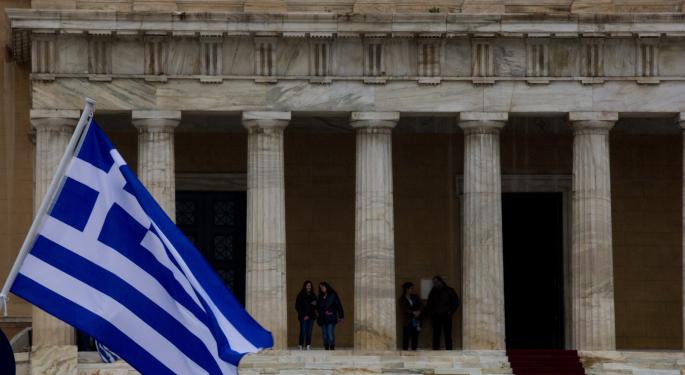 The Bank of Canada recently released its June 2015 Financial System Review on Thursday and briefly commented on the financial stress situation in the euro zone and the probability for a default in Greece.
The Bank of Canada stated that the ongoing financial stress in Europe leads to global financial market volatility, a widespread repricing of risk and a flight to liquidity that would adversely impact the Canadian financial markets.
However, the Bank noted that the probability of this risk materialized has declined since December. As such, the Bank lowered the overall risk assessment to "moderate" from "elevated." The downward revision was attributed to the positive effects of the European Central Bank's (ECB) asset purchase program, a weaker euro and lower oil prices.
Related Link: What Impact Can A 'Graccident' Have On The Markets?
Despite the improved outlook from the Eurozone, the Bank of Canada stated that the probability of a Greek default is now "more likely than it was before." The Central Bank continued that a default by Greece on its debt affects other countries in the continent through their direct financial and economic exposures to Greece. Investors could find it beneficial to pull their funds out of countries like Portugal, Spain or Italy which will threaten the balance sheets of their banks and sovereigns, the bank said.
On the other hand, the exposure of European banks to Greece is now "much smaller" than it was in 2012 and these banks are now better capitalized to absorb any losses. At the same time, foreign private sector exposure to Greece is "relatively low" because the risk has been transferred to the European Union, the ECB and the International Monetary Fund.
"While a credit event related to Greece is more likely than before, it is less likely to have extensive spillover effects across the euro area that are transmitted back to Canada," Bank of Canada said in its report. "However, if a significant stress event in the euro area did materialize, the impact on Canada would be moderately severe."
View Comments and Join the Discussion!
Posted-In: Bank of Canada euro zone European banks European Central BankNews Econ #s Top Stories Economics Best of Benzinga