2 Airline Stories Investors Should Know Today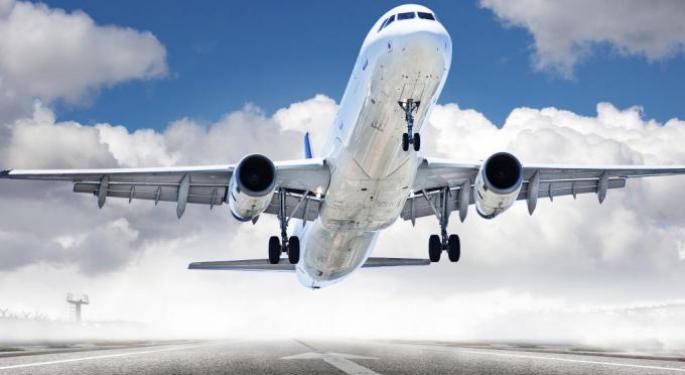 Airline and aerospace investors were treated to two important headlines on Thursday.
Boeing Forecasts Airplane Demand At $5.6 Trillion
Looking forward to 2034, Boeing Co (NYSE: BA) projected worldwide demand for its airplanes has increased 3.5 percent from last year's forecast to 38,050. The company estimated the total value of those new airplanes at $5.6 trillion.
The commercial airplane fleet will double to 43,560 airplanes in 2034 from 21,600 airplanes in 2014. Fifty eight percent of the 38,050 airplanes that are expected to be delivered over that time will be to accommodate growth.
More than seven billion passengers will fly by the end of the forecast period. Cargo traffic is projected to grow at 4.7 percent per year while passenger traffic will grow at 4.9 percent annually, near the historic trend line of 5 percent.
Boeing further noted that its single-aisle airplanes will remain the fastest-growing and largest over segment with an estimated 26,730 deliveries through 2034. These aircraft are used to carry up to 75 percent of passengers on more than 70 percent of the world's commercial aviation routes. Around 35 percent of the single-aisle market will go to low-cost carriers.
On the other hand, Boeing expects to deliver 8,830 widebody new airplanes, led by 200 to 300 seat aircrafts such as the 787-8 and 787-9 Dreamliner. The company noted that its forecast reflects a continued shift in demand from very large airplanes to new twin-engine products such as the 787 and new 777X.
Obama Administration Eyes Cutting Aircraft Emissions
The Obama administration is considering taking steps towards regulating greenhouse gas emissions from airplanes, according to a report by The New York Times.
The Environmental Protection Agency (EPA) said in a report on Wednesday that emissions from airplanes endanger human health because of their contribution to global warming.
The Environmental Protection Agency (EPA) is expected to propose new rules and standards next week for heavy-duty trucks and expected to announce new rules to rein in power plant pollution. However, introducing new rules and standards for airplanes will likely take years.
The governmental agency also said that it will wait for current international negotiations on limiting carbon emissions before finalizing new sets of rules and standards. Currently, discussions are taking place at the International Civil Aviation Organization, a United Nations agency tasked with aviation rules.
"Our No. 1 goal is to secure a meaningful international standard," Christopher Grundler, Director of the EPA's Office of Transportation and Air Quality said, according to The New York Times. "There are sound environmental reasons to do so. An international policy would secure far more greenhouse gas emissions reductions than a domestic-only plan."
The EPA's actions isn't free of criticism and concerns.
"Airplane carbon pollution is skyrocketing, but the E.P.A. is still dodging responsibility for curbing this climate threat," said Vera Pardee, senior counsel and supervising lawyer at the Center for Biological Diversity, according to The New York Times. "Passing the buck to an international organization that's virtually run by the airline industry won't protect our planet from these rapidly growing emissions."
A public hearing will be held by the EPA on August 11 in Washington DC to further discuss the matter.
View Comments and Join the Discussion!
Posted-In: airplanes Boeing Cargo Traffic DreamlinerNews Rumors Events Top Stories Best of Benzinga