With Nike-NBA Deal In Place, The Apparel Battle Now Shifts To NCAA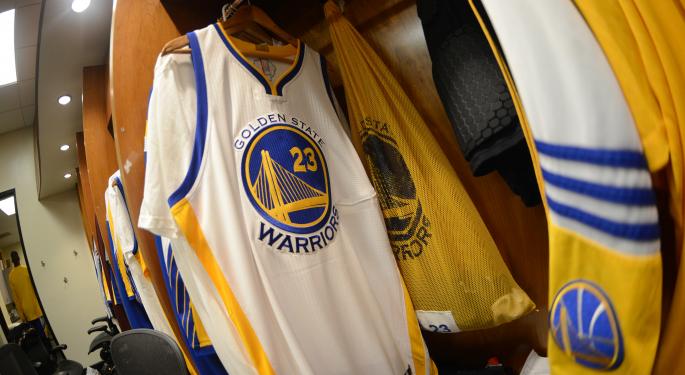 The National Basketball Association (NBA) and Nike Inc (NASDAQ: NKE) announced this week that Nike will now be the exclusive provider of on-court apparel for the NBA, the WNBA and the NBA D-League.
While the financial terms of the deal were not released, the agreement reportedly extends from the the 2017-2018 season to the 2025-2026 season.
Comments
Both Nike and the NBA are excited about the new deal. NBA Commissioner Adam Silver praised Nike and added, "As our exclusive on-court apparel provider, Nike will be instrumental in our collective efforts to grow the game globally while applying the latest technology to the design of our uniforms and on-court products."
Related Link: Four Reasons Nike Is So Hot Right Now
Nike President and CEO Mark Parker echoed Silver's enthusiasm. "We're excited to bring the full power of our global reach, innovation and creativity to partner with the NBA and grow the game in a way only Nike can," Parker said in a statement.
Adidas The Big Loser?
Nike's new contract replaces the current exclusive contract that the NBA has in place with Adidas AG (OTC: ADDY) through the beginning of the 2017-2018 season. Adidas announced that it would not renew its contract with the NBA earlier this year. Adidas' 10-year contract that began in 2006 reportedly cost the company more than $400 million.
Apparel Battle At College Campuses
Now that Nike has NBA apparel on lockdown, the athletic apparel battle between Nike, Adidas and Under Armour Inc (NYSE: UA) will shift to the NCAA, where several major apparel contracts will soon be expiring.
Apparel contracts for the University of Texas, University of Michigan, University of Wisconsin, University of South Carolina, Indiana University, University of Illinois, Michigan State University, University of Virginia and Auburn University are set to expire in 2016.
Adidas' grip on the collegiate world may be slipping as well, as the University of Cincinnati recently announced a switch from Adidas to Under Armour, and the University of Wisconsin is rumored to be making the same jump as well.
Despite giving up its NBA territory to Nike, Adidas has recently lured at least two schools, Arizona State and the University of Miami, to transition from Nike to Adidas.
Posted-In: Adam Silver Adidas Sports Apparel Mark Parker NBA Nike DealNews Rumors Contracts Top Stories Best of Benzinga
View Comments and Join the Discussion!