Will Buffett Subscribe To BYD Company Limited's $2.4 Billion Private Placement?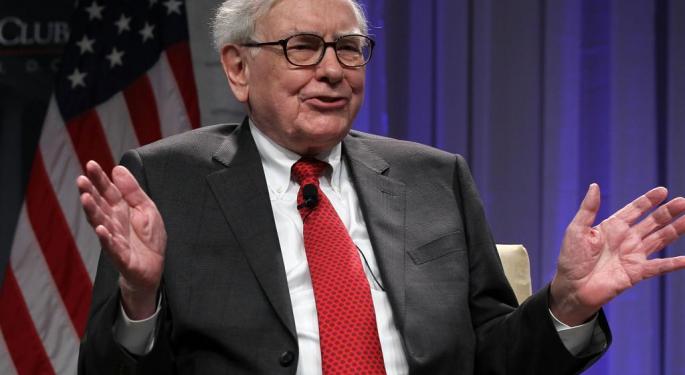 Warren Buffett likes his investment in BYD COMPANY LTD ADR (OTC: BYDDY) and has no plans to sell his 10 percent stake in the Chinese automaker, according to a report Wednesday in the Wall Street Journal.
No word, however, on whether Buffett plans to be among the roughly ten investors who will be invited to participate in the Chinese electric vehicle maker's upcoming $2.4 billion private placement.
Buffett And BYD
Buffett obtained his current 10 percent stake in BYD in 2008 for $230 million and reportedly wanted more, but got turned down by the company.
BYD said last week it aims to offer about 261.3 million new shares for at least 7.40 yuan, or about $9.25 USD a piece.
Related Link: 7 Reasons Warren Buffett Should Run For President
BYD Offering
The shares will be offered via subscription to "not more than 10 specific investors," likely to include institutional investors and finance companies, according to BYD.
The company expects to get at least 57.40 yuan a share from the issue, which will be listed on the Shenzhen Stock Exchange.
BYD said it will use roughly a third of proceeds for its battery making business, a third for automotive R&D and the remainder for working capital and to pay off debt.
Buffett And China
The Wall Street Journal's blog entry Wednesday noted that at this year's annual meeting of Berkshire Hathaway Inc. (NYSE: BRK-A) (NYSE: BRK-B), Buffett called China's growth "totally miraculous."
Buffett told the Journal that Berkshire made an unsuccessful bid last year on a substantial block of shares in a major Chinese company he declined to name.
"He's looked at other deals too, but nothing has borne fruit yet," according to the article.
BYD America-Bound
BYD's American depositary receipts trade over the counter in the U.S. under the symbols BYDDY. Its primary listing is on the Shenzhen Stock exchange with the code 002594, where the new shares will be listed.
Image Credit: Public Domain
Posted-In: Shenzhen Stock Exchange Wall Street Journal Warren BuffettMovers & Shakers Offerings Top Stories General Best of Benzinga
View Comments and Join the Discussion!