What To Take Away From Tesla's Shareholder Meeting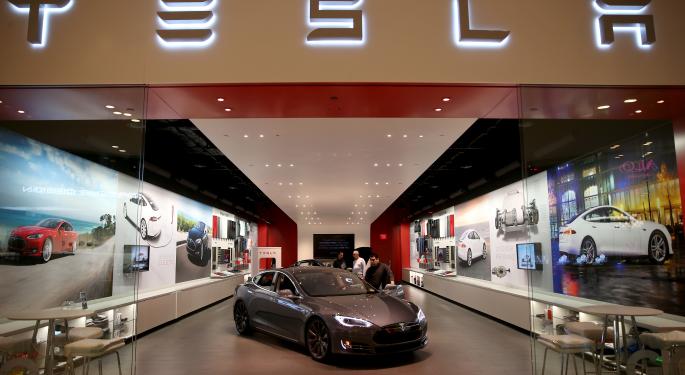 Tesla Motors Inc (NASDAQ: TSLA) held its annual shareholder meeting on Tuesday, and CEO Elon Musk gave the world a peek at the future of the electric automaker.
Model X Coming Soon
Musk announced that Tesla would be ready to ship its Model X SUV in three to four months. The company had originally planned to put the electric utility vehicle into production in 2013, but delayed its timeline to iron out technical issues.
Musk said that he's been test-driving the Model X and has been pleased with its performance. Nevertheless, he believes that Tesla still needs to ensure that key features, such as the car's wing-like doors and sliding seats, are working seamlessly.
The CEO is also excited about the Model X's safety features. He said that it would be "five stars in every category" in terms of safety ratings, making it one of the safest SUVs on the road.
Related Link: Why This Startup Bought $125 Million In Tesla Batteries
Tesla expects about 55,000 vehicle shipments in 2015, at least 20,000 of which come from pre-orders for the Model X. The SUV will be Tesla's third vehicle to debut in the company's 12-year history.
Autopilot On The Way
Musk touched multiple times on the company's development of autopilot technology during the meeting. Tesla, along with Nissan and a few other motor companies, are racing to put self-driving cars on the road by 2020.
The CEO said that he has been personally testing Tesla's first version of autopilot, which provides automatic steering at high speeds, in a Model S sedan. It may also allow vehicles to park themselves and let drivers summon their cars from private lots with the click of a button. Musk announced that the preliminary autopilot system would be available for beta testing for a select few drivers later this year.
According to Musk, it will take Tesla about three years to achieve a full-service autopilot system, which would allow drivers to "fall asleep at the wheel." But even after the technology is perfected, he expects that it will take at least an additional year for regulators to warm up to the idea of self-driving vehicles.
Musk emphasized the importance of safety—a consistent Tesla priority—in experimenting with autopilot. He told shareholders that billions of miles of data would be logged testing human decision making in various traffic situations against computer decision making. In his opinion, any autopilot system that isn't at least 10 times safer than a human driver should not be allowed on the road.
CFO Departs
Musk told shareholders on Tuesday that Tesla's seven-year CFO Deepak Ahuja would be leaving the company. The former Ford Motor Company (NYSE: F) executive signed on as the electric car maker's first CFO in 2008.
Ahuja admitted that the decision was a difficult one, but he believes that he and his colleagues have built a "solid foundation for Tesla's long-term success." Indeed, the company is primed for a period of rapid expansion. Musk said that he expects 50 percent annual growth over the next several years, and Tesla execs are hoping to hit 500,000 in yearly auto unit sales by 2020.
Despite the positive signs from the shareholder meeting, Tesla's stock was trading down as much as 2 percent on Wednesday morning.
Posted-In: Deepak Ahuja Elon Musk Model XTop Stories Tech Best of Benzinga
View Comments and Join the Discussion!