Hedge Funds Buying Biotech IPO Operated By Ex-Fund Manager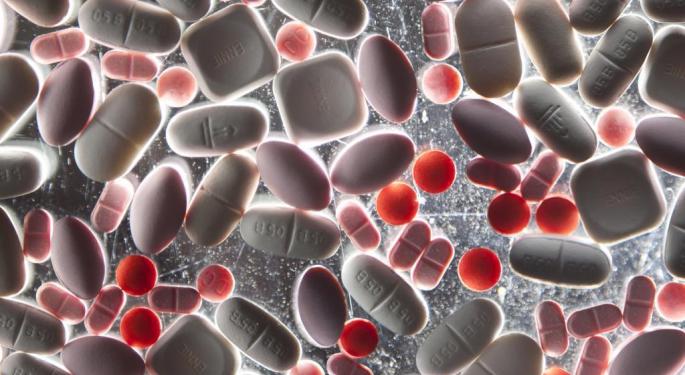 Editor's note: This article was updated after publishing to remove the "Hedge Fund Buyer's Club" section.
Axovant Sciences (NASDAQ: AXON) is a late-stage biotech company focused on development of an Alzheimer's therapy acquired from GlaxoSmithKline. The company hopes to raise $251 million by offering 17.9 million shares between $13 and $15 per share. Axovant will list on the Nasdaq under the ticker AXON. At the midpoint of the range, the company would have a market cap of $1.3 billion.
Bermuda-based Axovant Sciences focuses on development and commercialization of novel therapeutics to treat neurodegenerative disorders. The company aims to be the leader in the treatment of dementia. Currently, Axovant is concentrating on developing its leads candidate RVT-101 for the treatment of Alzheimer's and other forms of dementia.
Invest in IPO shares before the stock hits the market with ClickIPO. Check it out here
It acquired the worldwide rights to GlaxoSmithKline's (NYSE: GSK) treatment in December 2014. The company plans to begin Stage 3 clinical trials in Q4 of 2015. If the trial succeeds, the company may provide a breakthrough treatment to individuals affected by the disorders. Not since 2003 has the FDA approved a new drug to treat Alzheimer's disease.
Alzheimer's disease is a progressive form of dementia that causes significant impairments in cognition and day-to-day functioning. RVT-101 works to block a receptor on neurons which releases the neurotransmitter acetylcholine in the brain. GSK found the drug to be ineffective when used on its own.
Related Link: 10 Biotech Experts To Follow On Twitter
Axovant's solution is to combine RVT-101 with Aricept. In its Phase 2 trials, it has shown improvements. However, the benefits are short-lived as it doesn't seem to treat Alzheimer's underlying cause like Biogen (NASDAQ: BIIB) is aiming to do with its candidate BIIB037.
Based on data from Alzheimer's International, more than 44 million worldwide suffer from dementia and 38 million have Alzheimer's disease. According to the Alzheimer's Association, the disease affects about 5.3 million people in the U.S. Unfortunately, this statistic is expected to increase to 13.8 million people age 65 and older by 2050.
Financials
With the company still in development phase, Axovant has no revenue to date. Operating expenses at the end of Q1 2015 in March totaled $21.0 million. R&D costs were $14.3 million and general and administrative came to $6.72 million and its net loss was reported at ($21.0) million.
Axovant's total assets are $1.11 million and total liabilities equal $8.86 million. The company has no cash and no long-term debt. All operations have been financed through capital contributions, short-term advances from Roivant Sciences or its affiliates, paying expenses related to Axovant's operations, which it will be required to reimburse. These factors raise substantial doubt about its ability to continue as a going concern.
Under the agreement, GSK received an upfront payment of $5 million for the worldwide rights to RVT-101 and Axovant is obligated to pay another $5 million if Phase 3 trials are successful in obtaining FDA approval. The company is also obligated to pay $35 million, $25 million, and $10 million in the event of approval of RVT-101 in the U.S., Europe, and Japan as well as a one-time payment of $85 million when the company reaches global net sales of $1.2 billion in a calendar year.
GSK will also receive a fixed 12.5 percent royalty based on net sales of the drug.
Conclusion and Pricing Info
Insiders, such as Ramaswamy and his family, will likely benefit most from this deal. It's not certain that the drug will get approval due to its level of effectiveness, however, with the hedge funds buying into the deal and Jeffries underwriting the issue, Axovant could have a decent run. Investors can expect the share price to drop once the hedge fund specific lock-up period ends after 90 days. Long-term, the company's success rests on its critical FDA approval.
Axovant expects to raise $230.1 million in net proceeds. The company plans to use approximately $95 to $105 million to fund its Phase 3 program for RVT-101 and use the remainder for working capital and general corporate purposes.
Axovant expects to issue 17.9 million shares between $13 and $15 per share on the Nasdaq under the ticker AXON. The deal is led by Jefferies, Evercore, and RBC Capital Markets. Expect this issue to price Wednesday evening.
Posted-In: Axovant sciences biotech ipo ipo previewPreviews IPOs Top Stories Trading Ideas Best of Benzinga
View Comments and Join the Discussion!