IPO Outlook: Wingstop's 'Atomic' IPO To Top New Issues This Week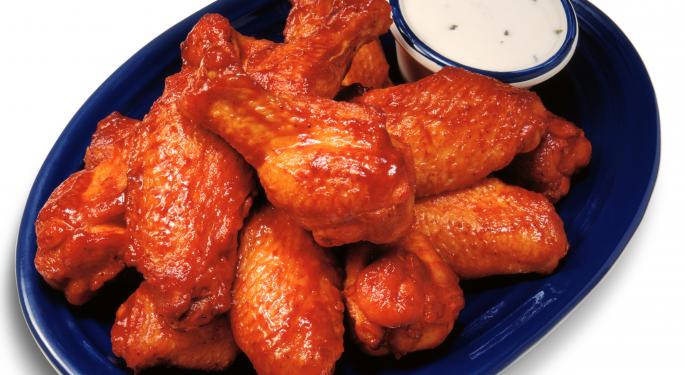 #TheWingExperts fast casual restaurant chain Wingstop (NASDAQ: WING) prepares for its IPO Friday, June 12. The company initially planned to raise $75 million by offering 5.8 million shares between $12 and $14 per share amid strong demand from investors for restaurant IPOs.
That range has since been updated to between $16 and $18 per share, according to an amended S-1 filing, Benzinga Pro reports.
Wingstop will list on the NASDAQ under the ticker WING. At the midpoint of the range, the company's market cap would be $372 million.
Wingstop's closest publicly-traded competitor is Buffalo Wild Wings (NASDAQ: BWLD). The Dallas-based company started in Texas in 1994 and has pioneered the concept of chicken wings as the "center of the plate" for all occasions.
The company focuses on chicken, fries, and sides. Ninety percent of its revenue is from its core demographic of 18-34 year Millennials that have grown to love the fast casual restaurant concept as seen with Chipotle (NYSE: CMG) and Shake Shack (NYSE: SHAK).
Wingstop believes that the company's simple and efficient franchise model of, "chicken, fries, sides, repeat," has allowed it to scale to 745 locations across 37 states and 6 countries over the last 20 years.
At the end of Q1 in March 2015, its restaurant base was 97 percent franchised with 726 locations and 19 company-owned restaurants. The restaurant's low initial capital investment and strength in the fast casual space has helped franchisees generate strong operating margins, consistent free cash flow and capital efficient growth. The company's same store sales have increased 11 years through 2014 and its restaurant count has grown at a CAGR of 15.3 percent.
Financials
Total revenue, including royalties and franchise fees as well as company-owned restaurant sales equaled $19 million for Q1 of 2015 compared with $16.8 million at the end of Q1 in 2014. Revenue increased due to an increase in the number of franchise stores from 608 to 726 and the domestic same store sales growth of 10.7 percent from primarily an increase in transaction counts.
Revenue over the last three years grew year over from $25.1 million in 2012 to $30.2 million in 2013 and to $38.0 million in 2014. The majority of the company's royalty agreements require franchisees to pay 5.0 percent of gross sales net of discounts.
The good news for franchisees is that upon opening, the restaurant does not experience the typical "honeymoon effect" often cited in the industry. Wingstop's S-1, in particular, notes that growth remains consistent with the average store doing $820,000 of revenue its first 52 weeks in business. In 2014, 59 of 82 new restaurant openings were by existing franchisees.
The company is able to improve cost controls by leveraging fixed costs with labor, for example. Labor costs decreased as a percentage of sales from 22.5 percent in 2014 to 20.6 percent in 2015.
Net income decreased to $2.55 million in Q1 of 2015 from $2.98 million over the same time period in 2014. Net income grew year over from 2012 to 2014 from $3.58 million, $7.53 million, and $8.98 million respectively.
Shifting to the balance sheet, the company has $2.90 million in cash, $114 million in total assets and, $133 million in total debt. Prior to the offering, the company is 85 percent owned by Atlanta-based private equity firm Roark Capital Management and after the offering will maintain 69.9 percent.
When Roark acquired Wingstop in 2010, it issued a press release in which its managing director Steve Romaniello said "Roark invests in franchises with a proven track record in the marketplace and potential for significant growth. With 27 consecutive quarters of positive same-store sales, Wingstop is a clear leader in its category." At the time, the deal was valued between $80 and $90 million or about 7 to 8 times Ebitda. Wingstop has paid a $48 million dividend to Roark this year as well as a $38.5 million dividend in 2014 and a $19.3 million dividend in 2012.
The fast casual restaurant industry is expected to exceed $54 billion in annual sales by 2018, up 57 percent from $34.5 million currently, according to Technomic. The company's domestic restaurant count increased 43.3 percent since the end of 2011 with restaurant openings continuing to increase each year. With the company's fast growth and market appeal, it aims to capture market share away from its competition as it plans to expand to 2,500 locations.
Conclusion And Pricing Info
Given Wingstop's strong year over year growth, simple and efficient franchise model, and timing in the fast casual space, this looks to be a hot IPO issue.
Wingstop expects the next proceeds of this offering to equal $22.9 million to go toward the repayment of $19.6 million in debt and a $3.3 million management fee to terminate its agreement with Roark Capital Management.
Other Offerings
Thursday June 11
Invuity (NASDAQ: IVTY) 4.0 million shares expect to price at a range of $14 to $16 per share through Piper Jaffray, Leerink, and Stifel.
Axovant Sciences (NYSE: AXON) 17.9 million shares expect to price at a range of $13 to $15 per share through Jeffries, Evercore, and RBC Capital Markets.
Friday June 12
Biotie Therapies (NASDAQ: BITI): 3.37 million shares expect to price at $14.82 through RBC Capital Markets, Stifel, and JMP Securities.
Peoples Utah Bancorp (NASDAQ: PUB): 2.5 million shares expect to price at a range of $13 to $14 per share through D.A. Davidson, Sandler O'Neill + Partners, and FIG partners
Principle Solar (NASDAQ: PSWW): 2.5 million shares expect to price at a range of $9 to $11 per share through Northland Securities.
Wingstop: 5.8 million shares expect to price $16 to $18 per share through Morgan Stanley, Jeffries, and Baird.
Yulong Eco-Materials (NASDAQ: YECO): 2.3 million shares expect to price at a range of $6.25 to $7.25 per share through Axiom Capital Management and Northland Securities.
View Comments and Join the Discussion!
Posted-In: IPO Outlook ipo previewPreviews IPOs Top Stories Trading Ideas Best of Benzinga