Tesla's Gigafactory Looks 'Really Freaking Huge'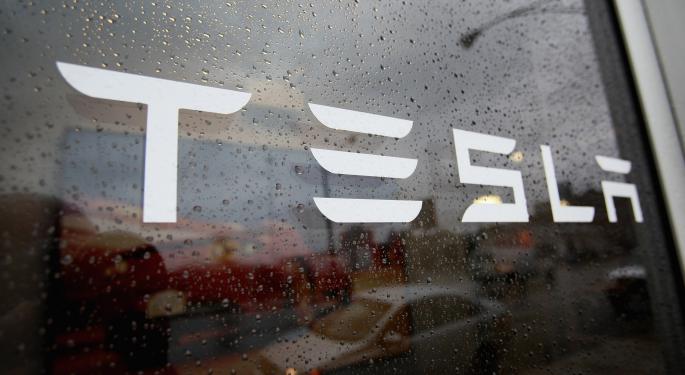 UPDATE: Elon Musk tweeted Wednesday night that this is video of a pilot plant, not the actual Gigafactory.
Tesla Motors Inc (NASDAQ: TSLA) has made its intentions of being a world-class leader in battery technology has been well received by the investment community. In order to achieve its world-class status, the company is constructing a facility in Nevada to manufacture lithium-ion batteries.
On Tuesday, the investment community and followers of the company were treated to footage of the factory under construction in northern Nevada, courtesy of an aerial drone equipped with a 4k ultra high-definition camera.
A two-minute YouTube video uploaded by "QLC [Quick Laltop Cash] Tech Videos" shows the sheer size of the facility. Until now, the associated account hasn't covered Tesla or electric vehicles.
The YouTube page noted that the "Gigafactory is growing at a steady pace and helping fuel the strong economic recovery in Northern Nevada."
Related Link: Are Apple And Tesla Secret Partners?
When completed, the facility will house more than 6,500 staff and become the largest lithium-ion processing facility in the world.
"We've found ourselves watching the video several times on loop this morning, and each time, we pick out something new to remind us of just how large the Gigafactory really will be when it is completed next year," the blog Transport Evolved wrote when commenting on the video. "Aside from the many cranes and earth-movers which are parked up in various places on the site — all of which look like children's toys against the mighty construction of the Gigafactory — the two neighbouring 17-acre facilities in the distance look positively small against the Gigafactory's footprint."
Also commenting on the video, Venture Beat noted that the new video puts the proposed size of the factory in perspective.
"Context is provided by diagrams that compare its planned footprint to, say, the largest building for assembling jetliners on Boeing's Washington state campus," the publication stated while adding that the factory is "really freaking huge."
Posted-In: drones Gigafactory Transport Evolved Venture BeatNews Rumors Best of Benzinga
View Comments and Join the Discussion!