IPO Outlook: Is Shopify A Better Investment Than Etsy?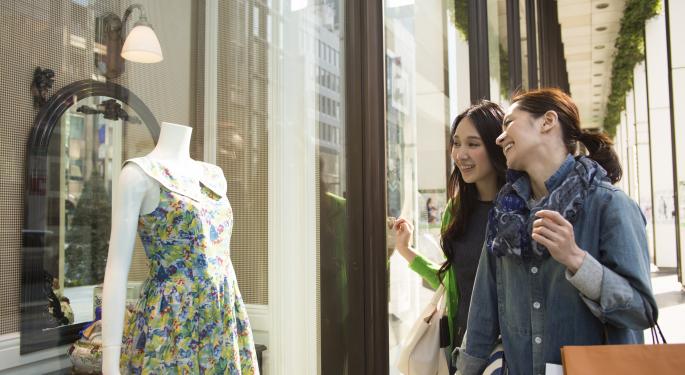 Canadian eCommerce website Shopify Inc. (NYSE: SHOP), which helps businesses create online storefronts will conduct its IPO Thursday, May 21, with a valuation as high as $1.04 billion. The Ontario based company plans to raise almost $108 million and will list both in Canada and the U.S. on the TSX and NYSE under the tickers SH and SHOP.
The company was founded in June 2006 as a website to help small and mid-sized businesses design, set up and manage their online storefronts. Since then, Shopify has scaled from its online store service to provide payment processing services to power retail sales through IPhone, IPad, and Android.
The company currently has 162,000 active stores spread across 150 countries and employs more than 500 people. In 2014, the company processed $3.8 billion in gross merchandise volume (GMV). Private investors completed a funding round to value the company over $1 billion.
Related Link: Etsy Investors: Morgan Stanley Just Initiated Coverage
As the world becomes more mobile, consumers are shifting transaction preference to eCommerce because of the speed and convenience it provides anytime, anyplace and anywhere. Shopify said in its S-1, "our merchants' shops average 300 million unique monthly visitors, 50 percent of which were from mobile." Shopify's goal is to capitalize on the 46 million merchants globally who can benefit from their business placed on online.
Financials
Shopify has experienced rapid growth in the recent years. The company's revenue increased 343 percent from $23.7 million in 2012 to $105 million in 2014. In March 2015, it booked $124 million in sales. Most of Shopify's revenue is generated through subscriptions to its platform.
Depending how big a business is and how many additional features the business wants, the prices can increase. Subscription revenues accounted for 63.5 percent of total revenues. Shopify also generates revenue from fees on merchants' transactions, domain name registration, and store themes and web applications.
As a result of the company's growth, operating expenses increased 275 percent from $12.3 million in 2012 to $45.9 million in 2014. An increase in employee headcount, spending on social media campaigns, and Google AdWords contributed to the increase in costs. As the company continues to expand, it expects its costs to increase which is where a majority of the IPO proceeds will be used.
Shopify net losses grew from $1.2 million in 2012 to $22.3 million in 2014 or 17.6 percent. Losses are attributed to rapid growth and competition from sources such as marketplace Amazon, eBay, and Etsy with the former two dominating the eCommerce space. An attractive feature is Shopify's low debt load. It has a $25 million revolving note but otherwise little to worry about debt-wise.
It Takes Two to Tango
Ecommerce operators Shopify and Etsy Inc (NASDAQ: ETSY) both offer comparable services to small and mid-sized businesses that create and operate their own online storefronts based on the companies' platforms and services. The services range from payment processing, inventory management tools, POS apps, and customer retention tools.
The companies differ in three main areas. The first is, Shopify functions as a commerce service provider offering merchants a website and Etsy is a peer-to-peer marketplace similar to eBay Inc (NASDAQ: EBAY). Unlike Etsy merchants, Shopify merchants must generate their own customer base.
The second difference is how the companies generate money. Most of Shopify's revenue is derived from subscription fees and add-ons like payment processing, fees from transactions, and store features. Etsy collects listing, transaction and payment processing fees.
The third difference is that Shopify relies on an open source infrastructure versus Etsy which uses its own software platform. This may be a turn-off to merchants on Shopify because in order to add more functionality to their stores, they will need to use third-party apps which may provide different levels of quality and cost.
Despite the differences, Etsy's successful IPO creates a positive wave for Shopify's upcoming offering to ride. Etsy priced at $16 per share and opened at $30. The company raised $287 million with a valuation around pre-IPO of $1.8 billion. Its current market cap is $3.3 billion. At this range, Shopify looks to be better valued than its peer.
Conclusion And Pricing Info
With more consumers making the shift to eCommerce, businesses that chose to take advantage of this trend will generate more sales and profits over the long-term. Shopify positioned itself to benefit by arranging both businesses and consumers together as a service provider. Based on Etsy's similar fundamentals, Shopify may be a good play for investors looking for a good first day pop.
Shopify plans to use the proceeds to strengthen its balance sheet and increase spending for R & D, sales and marketing, and to add new products and services to its customers.
Shopify will list under the ticker SHOP on the NYSE on Thursday May 21. 7.7 million Class A subordinate voting shares are expected to price between $12 to $14 per share through the lead book-runners Morgan Stanley, Credit Suisse, and RBC Capital Markets. Morgan Stanley was one of the main investment banks involved in Etsy's successful IPO.
Other

IPOs

This Week
Wednesday May 20
GP Investments Acquisition Corp (NASDAQ:

GPIAU

) 15 million shares are expected to price at $10 per share.
Thursday May 21
Black Knight Financial Services (NYSE:

BKFS

) 17 million shares are expected to price between $22 to $25 per share through J.P. Morgan and

BofA

Merrill Lynch.

Shopify

(NYSE: SHOP) 7.7 million shares are expected to price between $12 to $14 per share through Morgan Stanley, Credit Suisse, and RBC Capital Markets.
Community Healthcare Trust (NYSE:

CHCT

) 6.3 million shares are expected to price between $19 to $21 per share through Sandler O'Neill, and

Evercore

Partners.
PGA Holdings (NYSE:

PGND

) 8.9 million shares are expected to price between $22 to $24 per share through Barclays, and Goldman Sachs.

Bazoun

(NASDAQ:

BZUN

) 11 million shares are expected to price between $12 to $14 per share through Morgan Stanley, and Credit Suisse.
Posted-In: Etsy IPO Outlook ShopifyNews Previews IPOs Top Stories Trading Ideas Best of Benzinga
View Comments and Join the Discussion!