Richard Branson Talks Virgin Origin Story, Reveals Why He's Successful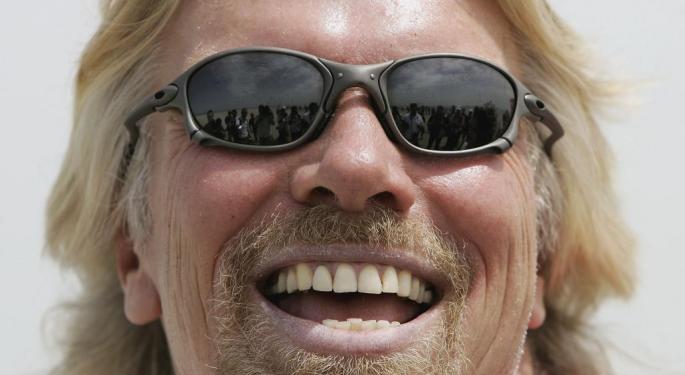 Richard Branson, founder and proprietor of many iconic, global brands, started Virgin America Inc (NASDAQ: VA) 31 years ago out of frustration with trying to get to the British Virgin Islands. "I had a very cute girl waiting for me," he said.
Very First Flight Sold Out
He was scheduled to fly on a flight that was deemed to be undersold by the airline, so it canceled that day's trip. As a frustrated and tired traveler, he found a plane he could charter, wrote out a hand-made sign offering passage to the BVI, and sold the flight out that moment with passengers from his canceled flight.
Virgin Atlantic was born, and its very first flight ever was sold out.
Success
As he explained at SALT 2015 (Benzinga was in attendance), he attributes his success largely to childhood learning disabilities. Branson said he's dyslexic, and early on, he realized he could delegate to people who were stronger in certain capacities. "My dyslexia made me approach things more simply," he said. "I learned early on that I could delegate to people smarter and better than I was."
"No one wants to hear bid-ask spread. That's why our advertising is clear, simple, and has no jargon. The joke is, if Richard can understand it, anyone can."
Related Link: Jim Chanos, Kyle Bass Rip Oil And Pharma At SALT 2015
In meetings, people would throw up figures at him and he's known to ask, "Is that a good figure?" At one point, when Richard was 50 years old, a board member took him outside and said, "You don't know the difference between gross and net [revenue], do you?" Richard said, "No."
The board member drew a picture to explain it.
Branson is by no means incapable, though. He's a genius marketer and a visionary businessman, doing things years before anyone else, like having TVs in airplanes.
Being The Best
What he does, in particular, is build brands to be the best. "Very few of the best hotels, airlines, or clubs ever go bust. If you're going to do something, be the absolute best," he said at the conference. "Enjoy and be proud of any business you have. Make sure your staff is proud of it and will work enormously hard to make it a success."
Virgin recently adopted a policy that allows employees to work at home; the company also has a generous vacation policy. "Do we tell our people to not answer their emails? No, answer your emails, get the work done, but just take a longer holiday if you want.
"If you work a job around what people want, you'll get their very best."
For Branson to speak at SALT, he was paid. Unlike other high-profile speakers, 100 percent of proceeds go directly to his charitable foundation.
View Comments and Join the Discussion!
Posted-In: Richard Branson VirginNews Short Sellers Events Success Stories Tech Interview Best of Benzinga