Willie Nelson Launches Marijuana Brand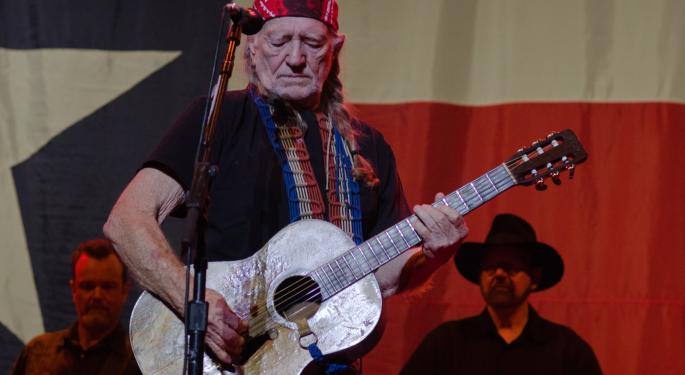 On Monday, April 20, country music singer Willie Nelson announced his plans to join several other celebrities in the marijuana industry with his own line of commercial marijuana. The 81-year-old star used 4/20, a day recognized by pot enthusiasts as the biggest day of the year to smoke, to announce his new brand, which he claims will boast the best weed on the market.
Willie's Reserve
Nelson has been known as a marijuana supporter with songs like "Roll Me Up and Smoke Me When I Die" and his latest release "It's All Going to Pot." The marijuana, said to be called "Willie's Reserve" will be grown in both Colorado and Washington where recreational weed has been made legal. Nelson has promised to create a top-of-the-line product by enlisting the best growers the states have to offer.
Related Link: Marijuana Stocks Not Very High On 4/20
Celebrity Endorsements
Willie Nelson is not the first marijuana smoking celebrity to put their name on a pot product. Rapper Snoop Dogg has lent his name and his cash to several endeavors including a pot delivery service and a vaporizing pen. Reality star Bethenny Frankel is rumored to be working on a strain of marijuana that doesn't give users the munchies for her Skinnygirl line and Reggae singer Bob Marley's family has been working on a weed offering of their own.
While celebrity endorsements are a great way for new products to gain exposure, some marijuana supporters say the "stoner" culture is a drag on the industry. Some argue that using celebrities famous for their drug habits takes away from arguments to legalize the drug for medicinal purposes.
Image credit: joshbg2k, Flickr
Posted-In: marijuana Snoop Dogg Willie Nelson Willie's ReserveNews Legal Markets Best of Benzinga
View Comments and Join the Discussion!