Lions Gate, Coty And Other Stocks Insiders Have Been Buying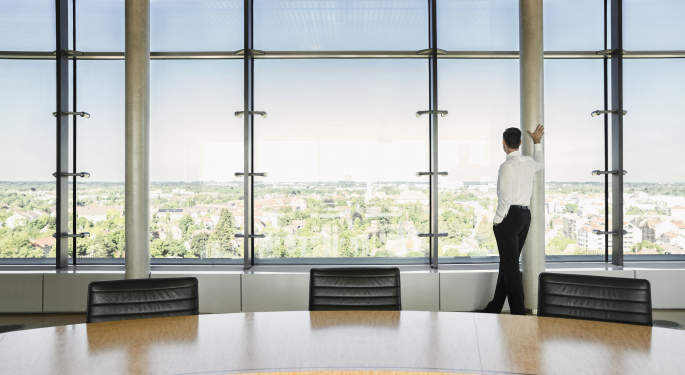 With the markets facing various headwinds, investors have had to get more selective when it comes to stocks. Insider buying can be an encouraging signal. Conventional wisdom says that insiders and beneficial owners really only buy shares of a company for one reason -- they believe the stock price will rise and they want to profit from it.
Recently, the most significant insider buys have been of the likes of Coty, Lions Gate Entertainment and Opko Health. Note that some insiders are prohibited from buying shares during earnings season.
AGCO
One director has bought more than 365,000 AGCO Corporation (NYSE: AGCO) shares so far this month, including more than 90,000 last week at prices ranging from $47.30 to $47.93. Last week's total came to almost $2.69 million, and occurred around the time JPMorgan downgraded AGCO.
This Georgia-based agricultural equipment maker has a market capitalization near $4.3 billion and a dividend yield of about 1.0 percent. The price-to-earnings (P/E) ratio is less than the industry average, but about 18 percent of the float is short. Shares ended Monday at $48.74, so the buys look well-timed.
See also: General Motors Buyback Plan Attracts Einhorn's Greenlight Capital
Biglari Holdings
After surviving a challenge to his leadership of Biglari Holdings Inc (NYSE: BH), Chairman and CEO Sardar Biglari bought more than 8,600 shares last week at prices of $412.93 to $414.17. The total for that was more than $3.56 million. The upstart activist was Groveland Capital.
This restaurant operator's market cap is around $840 million. Its P/E ratio is much less than the industry average, and the long-term earnings per share (EPS) growth forecast is about 13 percent. The stock closed Monday at $407.18, down almost 1 percent following an analyst downgrade.
Coty
Before Coty Inc (NYSE: COTY) publicly named its new CEO, the chief financial officer bought more than 17,500 shares of this cosmetics company. At $24.86 per share, that came to more than $436,000. Note that this executive also exercised options on more than 72,500 shares last week.
This $8.6 billion market cap company has a long-term EPS growth forecast of about 9 percent but a return on equity that is in the red. Short interest is more than 8 percent of the float. On Monday, shares hit a multiyear high of $25.76, so another well-timed buy. They ended the day up nearly 22 percent year to date.
Lions Gate Entertainment
One director accumulated more than 35,000 shares of this Santa Monica, California-based entertainment company last week. At a share prices ranging from $30.97 to $31.39, that was worth more than $1.09 million. A merger with media company Starz has been
recently rumored.
The market cap of Lions Gate Entertainment Corp. (USA) (NYSE: LGF) is around $4.4 billion, and its dividend yield is near 0.9 percent. The operating margin is better than the industry average and the return on equity is more than 36 percent. Shares closed Monday up 2 percent to $31.39.
New Residential Investment
Last week, the chief executive purchased 250,000 shares of New Residential Investment Corp (NYSE: NRZ) at $15.25 apiece. That cost him more than $3.81 million. Earlier in the month, the company purchased nearly all the assets of Home Loan Servicing Solutions.
This real estate investment trust (REIT) has a dividend yield of about 9.6 percent and a market cap of about $2.33 billion. The return on equity is more than 23 percent. Shares hit a new 52-week high of $16.97 on Monday, and they are up around 31 percent since the beginning of the year.
See also: Why Disney Might Be 'A Good Buying Opportunity'
Opko Health
The chairman continues to buy batches of shares frequently, as he has done for well more than a year. He purchased around 90,000 Opko Health Inc. (NYSE: OPK) shares so far this month at prices that ranged from $14.14 to $14.63. That cost him more than $1.28 million. His total stake is around 154.62 million shares.
This Miami-based health care company has a market cap of near $6.5 billion. Note that the return on equity is in the red, and short interest is more than 17 percent of the float. Shares ended the trading session Monday at $14.33. Note that they have traded mostly between $14 and $15 since February.
At the time of this writing, the author had no position in the mentioned equities.
View Comments and Join the Discussion!
Posted-In: AGCO Biglari Holdings Coty Lions Gate Entertainment New Residential Investment Opko HealthNews Insider Trades Best of Benzinga