Mario Draghi Attacked At ECB Press Conference: What Happened?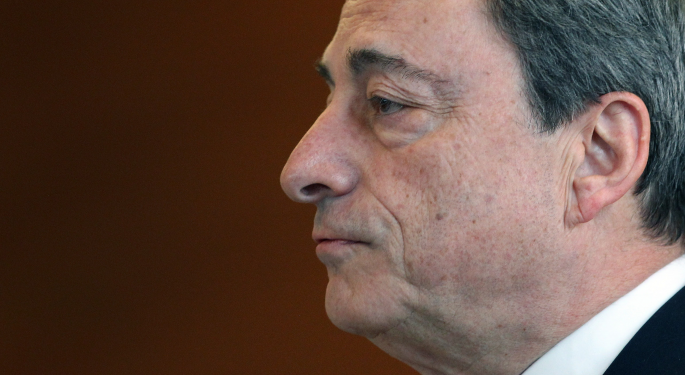 At approximately 8:41 a.m. ET, ECB President Mario Draghi was attacked by a crowd member who accused the central bank of being a "dictatorship." Four minutes later, the conference resumed.
But...what happened?
Everything was going smoothly, according to Twitter:
Draghi: Purchases intended to run until end Sept 2016 and, in any case, until we see a sustained adjustment in path of inflation

— ECB (@ecb) April 15, 2015
Draghi: Implementation of asset purchase programmes proceeding smoothly, with volumes in line with announced figure of €60 billion per month

— ECB (@ecb) April 15, 2015
Draghi: Financial market conditions and the cost of external finance for the private sector have eased considerably

— ECB (@ecb) April 15, 2015
DRAGHI SAYS QE TO RUN UNTIL SUSTAINED ADJUSTMENT IN INFLATION. Will export deflation to Japan as long as Japan exports deflation to ECB

— zerohedge (@zerohedge) April 15, 2015
Then this happened:
Protest at ECB press conference - woman jumps on Draghi's desk and shouts 'end the ECB dictatorship' pic.twitter.com/1tLSfDyw6S

— Mark Broad (@markabroad) April 15, 2015
Draghi attacked by woman with confetti, on live TV @CNBC pic.twitter.com/o1ldARBla2

— Carl Quintanilla (@carlquintanilla) April 15, 2015
Mario Draghi attacked by protester at ECB presser. Seemed to shout "dictatorship". More here http://t.co/5bYGAcZwkI pic.twitter.com/gaMIMX8wGp

— Bec Clancy (@becclancy) April 15, 2015
Girl jumped on Draghi s table throwing confetti and crying Stop ECB dictatorship - WOW, did I say it was relaxed?

— Alessandro Speciale (@aspeciale) April 15, 2015
Things calmed down after a few minutes, though:
if you missed it, this happened in real life. And Draghi is cool as an actual cucumber. https://t.co/X751f0u7N9

— Katie Martin (@katie_martin_FX) April 15, 2015
Draghi is not called "Super Mario" for nothing.

— Nicholas Spiro (@NicholasSpiro) April 15, 2015
And the ECB kept tweeting:
Draghi: Risks surrounding economic outlook for the euro area have become more balanced

— ECB (@ecb) April 15, 2015
Draghi: To reap the full benefits from our monetary policy measures, other policy areas must contribute decisively

— ECB (@ecb) April 15, 2015
Posted-In: ecb European Central Bank Mario Draghi Mario Draghi AttackedNews Events Hot Best of Benzinga
View Comments and Join the Discussion!