New SeaWorld Lawsuit Says Orcas Are Caged In 'Chemical Tubs'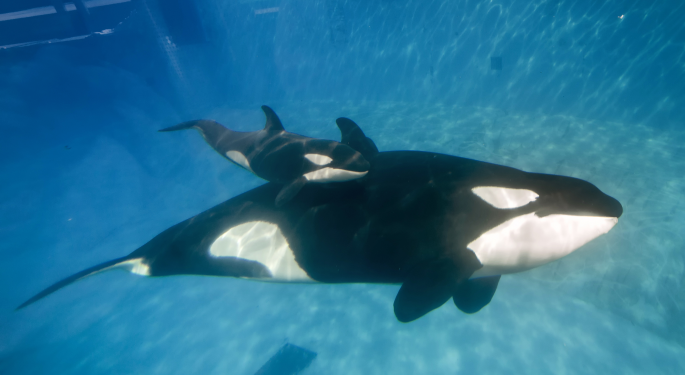 SeaWorld Entertainment Inc (NYSE: SEAS) is facing its second lawsuit in a span of three weeks, according to The Guardian.
The Guardian detailed a new federal class action lawsuit has been filed against SeaWorld in the state of Florida that accuses the company of drugging its performing killer whales. In addition, the whales are confined to live in "chemical bathtubs" with a chlorine solution that is "many times" stronger than household bleach.
Joyce Kuhl of South Carolina is suing the SeaWorld center in Orlando for her money back from a visit in 2013. The class action suit also calls for the company to refund millions of other visitors that paid admission to the park over the last four years.
Kuhl accused the company of fabricating the illusion that man and whale can live in harmony together in the company's marine parks. She noted that the company "masks the ugly truth about the unhealthy and despairing lives of these whales."
Kuhl's lawyer, Paul Rothstein, told The Guardian that his client is merely "an ordinary animal lover" that was disturbed by SeaWorld's alleged practices that are "inconsistent" with its marketing.
"She would not have purchased her ticket had she known then what she subsequently found out," the lawyer said.
A similar class action suit had been filed in California just a few weeks ago. The suit alleges SeaWorld misleads its visitors by claiming its "captive" killer whales, or orcas, are happy and thriving.
SeaWorld told The Guardian in a statement that it is among the world's most respected zoological institutions and is regularly inspected by the U.S. government and various professional zoological associations.
Posted-In: Class Action Suits Joyce Kuhl Orcas SeaWorld the Guardian WhalesNews Legal Best of Benzinga
View Comments and Join the Discussion!