IPO Outlook: Party City Pumps Up This Week's IPO Market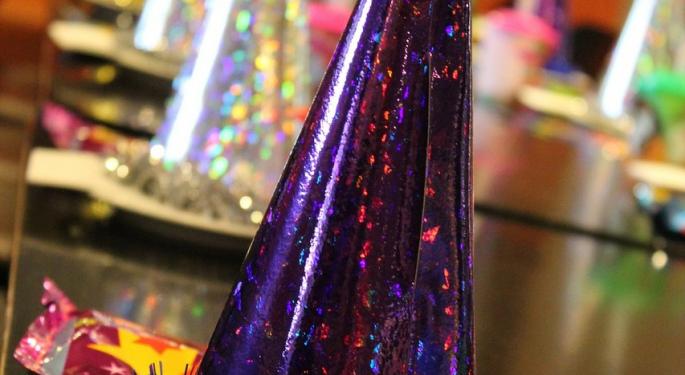 The first quarter of 2015 was the worst quarter for companies going public in the last three years. The negative results were due mostly to an influx of private funding for companies and macro events.
Despite the recent slowdown, investors may have something to party about with a mix of six initial public offerings (IPO) this week. Kicking the party off is none other than Party City Holdco Inc (NYSE: PRTY).
Let's Party With (NYSE: PRTY)
Party City is the largest party goods retailer in North America. Its $428 million IPO is scheduled Thursday April 16, with 21.9 million shares expecting to price between $15 and $17 per share on the NYSE under the ticker PRTY. The retailer is valued at almost $2 billion.
Business Model
The party giant is split up in two segments: retail and wholesale. Throughout the U.S. and Canada, it offers a one-stop shopping experience through a large selection of balloons, novelties, paper and plastic tableware, gifts, costumes and stationery for every day, themed and seasonal events.
With approximately 900 stores, Party City designs, manufactures and distributes its decorated party supplies in over 40,000 retail outlets globally to its own stores, mass merchants, dollars stores, grocery retailers, independent party supply stores and others. The retail party goods market is a $10 billion industry and through its Halloween City franchise, also participates in the $7 billion seasonal Halloween market.
Related Link: Birthday Supplies Supplier PartyOpedia Unveils New Website To The Public
The company attributes its leading market position to broad merchandise assortment, deep selection and low-cost pricing of quality products. The company has grown through acquisitions of companies such as Factory Card, Party Outlet, Amscan, Party Packages and several others. The result of the acquisitions has led to a more vertically-integrated business, due to increased profitability on manufacturing to retail margin.
Its e-commerce site launched in 2009 and has brought in additional sales of $160 million in 2014. Taking advantage of the Internet to further drive sales has worked for other retailers, such as Macy's. The company still feels there is room for expansion, as it wants to add an additional 350 stores.
Relevant Financials
Revenue since 2010 has grown at 9.2 percent. The top line stood 11.1 percent higher in 2014 than 2013, from $2.05 billion to $2.27 billion. Same-store sales increased by 5.4 percent. Net income grew to $56.1 million from $4.2 million in 2013. Previously, net income was negatively impacted due to interest expense from debt associated to the $350 million senior notes issued to pay a $338 million dividend to the company's backers.
The company's gross margin on net sales increased modestly to 42.0 percent from 40.6 percent in 2013. Gross margin on wholesale last year remained the same at 31.2 percent. Same-store sales increased by 5.4 percent.
Related Link: Global IPO Activity Is Sinking
Debt stands around $2.18 billion, more than double the $982.3 million owed in 2011. Private firm Thomas H. Lee (THL) acquired a 70 percent stake in Party City in 2012 for a $2.69 billion takeover, $584 million of which was equity. Another PE firm, Advent, purchased a portion from THL and currently owns 24 percent.
After the offering, the firms will own about 75 percent of the company, and both firms have members on the board.
Both PE firms have already made their money back. In the above mentioned $338 million dividend payment, THL received $235 million and Advent received $81 million. THL owns 65.16 million shares, which values its post-IPO holding at over $1 billion, giving THL an ROI of 2.2 times. Advent owns 22.4 million shares, which values its holding at $358.4 million, in addition to the previous dividend payment. Advent's return equates to about 2.2 as well.
Party Planning 101
In addition to Party City's sales, profits have been on the rise. Investors may increase the odds in their favor by piggy-backing off the PE firms that have generated stellar returns in recent years, due to the refinancing of high debt costs and cleaning up the balance sheet.
The proceeds raised from this IPO will go toward paying off some of this debt, which includes $281 million pay-in-kind toggle notes, to mature in 2019. Other uses of the proceeds include paying a $30.7 million management termination fee to THL and Advent.
Major bookrunners on the deal include Goldman Sachs, Bank of America Merrill Lynch, Credit Suisse and Morgan Stanley.
Related Link: Why The Etsy IPO Is A Big Deal
Other Offerings
Wednesday, April 15
Thursday, April 16
Disclosure: The author may purchase (or sell) any shares of the above listed companies at any time, with or without notice.

Image Credit: Public Domain
Posted-In: advent Amscan Factory Card Halloween CityPreviews IPOs Top Stories Trading Ideas Best of Benzinga
View Comments and Join the Discussion!