Iran Ripe For Investment Once Sanctions Are Lifted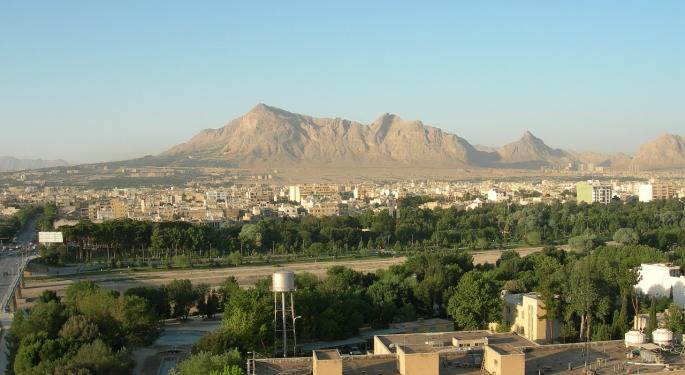 From oil to consumer goods, Iran is becoming a sought after marketplace as the potential of a nuclear deal removing Western sanctions is looking more and more likely.
Everyone from individual investors to major companies is looking at the Middle Eastern nation as an emerging market with an enormous amount of untapped potential.
Investment In Oil
While oil prices are likely to take a hit with the introduction of Iranian oil to the market, the Iranian oil sector is a valuable investment for U.S. and European companies looking to enter the nation's market.
In September, Iranian officials are planning a conference in London, at which foreign firms can evaluate the conditions of new oil contracts. Expectations are high that Western companies will be interested in taking on joint ventures with Iran's National Iranian Oil Company once the sanctions have been lifted.
Related Link: Could The Iran Nuke Deal Really Push Oil Prices Down Another $15?
Banking
Iran is home to nearly 80 million people, providing a huge market that could become even more attractive than the nation's wealth of natural resources. At the moment, only a sliver of that population has a debit card and even fewer have any debt.
For that reason, Western financial firms are likely to make their way into Iran as soon as possible with the introduction of credit cards and borrowing.
Consumer Products
Iranians spent $77 billion on food and $22 billion on clothes in 2012 despite the strict sanctions, as reported by the Wall Street Journal, so it's safe to assume that consumer products' firms will be looking to enter Iran's market as well.
Some say that the nation's population is nostalgic for American-made goods, especially cars, that used to be available before the sanctions were in place.
Risks
While the figures may look good on paper, many companies are likely to be hesitant to expand into Iran at first. For some, there are ethical issues about investing in a country that has been associated with terrorism. For others, there is a worry that the nuclear deal won't hold up.
Even if the West and Iran can iron out a concrete agreement by the end of June, there is a possibility that Iran won't comply with the terms of the agreement at some point in the future, which could mean more sanctions that would prevent businesses from moving their money out of Iran.

Image Credit: Public Domain
Posted-In: Iran nuclear deal National Iranian Oil Company Wall Street JournalEmerging Markets Commodities Top Stories Markets Best of Benzinga
View Comments and Join the Discussion!