Chesapeake Energy, Jabil Circuit And Others Insiders Have Been Buying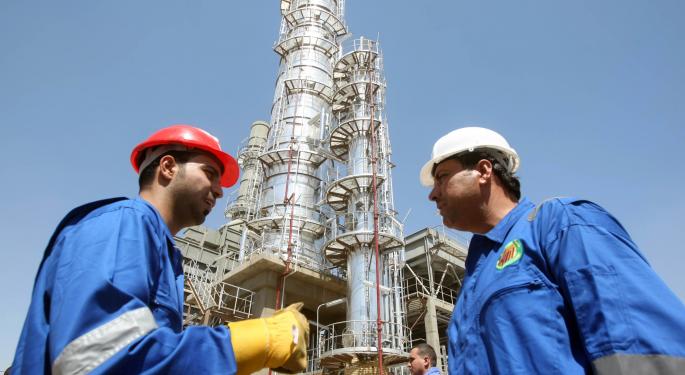 Even with volatility having returned to the markets, insider buying of stocks has remained strong, including among certain players in the struggling energy sector.
Most prominent recently have been significant insider buys of Chesapeake Energy, Jabil Circuit and Opko Health.
Insiders may sell shares for any number of reasons, but conventional wisdom says that they really only buy shares of a company for one reason -- they believe the stock price will rise and they want to profit from it.
Pullbacks and sell-offs can provide a perfect opportunity for investors who have faith in a company to snap up shares.
Chesapeake Energy
One director offered a strong vote of confidence in Chesapeake Energy Corporation (NYSE: CHK) by picking up 1 million shares at $13.98 apiece. That cost him more than $13.9 million. These purchases came in the wake of a Chesapeake's reduced production guidance.
This Oklahoma City-based company has a market capitalization near $9.5 billion and a dividend yield of about 2.5 percent. The price-to-earnings (P/E) ratio is less than the industry average, but almost 17% of the float is short. Shares ended Wednesday at $14.36, down more than 26 percent year to date.
See also: Tesla's New Product Secretly Tested By 330 Consumers
Frank's International
Last week, the executive chairman purchased 57,000 shares of Franks International NV (NYSE: FI) at $17.71 apiece. That cost him a bit more than $1 million. Earlier in the month, Frank's announced it would acquire privately held Timco Services to expand its footprint in the United States.
This Dutch oil services company has a dividend yield of about 3.2 percent and a market cap of almost $3 billion. The operating margin is greater than the industry average and the return on equity is about 17 percent. Shares are up more than 14 percent since the beginning of the year and closed most recently at $19.06.
Jabil Circuit
In the wake of a positive earnings surprise from Jabil Circuit, Inc. (NYSE: JBL), one director stepped up and bought 21,500 shares at $23.21 apiece, for a total of nearly $500,000, at a time when other insiders were selling. That bumped up his stake to almost 158,000 shares.
This electronic manufacturing services provider's market cap is about $4.5 billion, and it has a dividend yield near 1.5 percent. Its long-term earnings per share (EPS) growth forecast is about 12 percent. The stock closed Wednesday at $23.15, which is about 6 percent higher year to date.
Opko Health
The chairman continues to buy batches of shares periodically, as he has done for well more than a year. He purchased 70,200 Opko Health Inc. (NYSE: OPK) shares in the latter half of March at prices that ranged from $14.15 to $14.50. That cost him around $1 million. His total stake is around 154.53 million shares.
This Miami-based health care company has a market cap of more than $6 billion. Note that the return on equity is in the red, and short interest is more than 18 percent of the float. Shares ended the trading session Wednesday at $14.27, after rising almost 43 percent since the beginning of the year.
Ryman Hospitality
As March came to a close, the CEO bought more than 16,600 shares of Ryman Hospitality Properties Inc (NYSE: RHP). At $60.83 per share, that came to more than $1 million, and the transaction brought his stake in this Nashville-based real estate investment trust to almost 892,000 shares.
This $3.1 billion market cap hotel and convention center operator has a long-term EPS growth forecast of about 20 percent and a return on equity of more than 20 percent. Shares have pulled back from a recent multiyear high and ended Wednesday at $61.94, or up more than 17 percent year to date.
See also: Did Lumber Liquidators Know An Investigation Was Coming?
Vanguard National Resources
The chief executive officer, chief financial officer and one other executive accumulated more than 67,600 shares of this Houston-based oil and gas company last week. At a share price of $14.22, that cost them more than $622,000. Quarterly EPS fell short of consensus estimates in early March.
The market cap of Vanguard Natural Resources, LLC (NASDAQ: VNR) is around $1.1 billion, and its dividend yield is near 9.9 percent. The operating margin is better than the industry average. At Wednesday's close of $13.89, shares were almost 8 percent lower year to date.
At the time of this writing, the author had no position in the mentioned equities.
Keep up with all the latest breaking news and trading ideas by following Benzinga on Twitter.
View Comments and Join the Discussion!
Posted-In: chesapeake energy Frank's International Jabil Circuit Opko Health Ryman HospitalityNews Insider Trades Trading Ideas Best of Benzinga