Windstream Will No Longer Pay The S&P 500's Highest Yield: What Investors Need To Know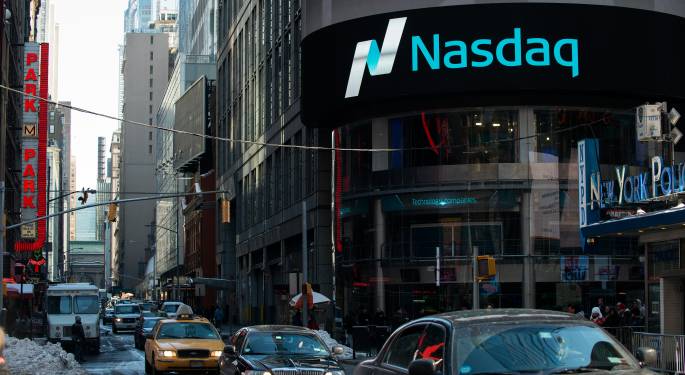 On March 26, legacy rural wireline carrier Windstream Holdings, Inc. (NASDAQ: WIN) formerly announced that its board had authorized the spin-out of "select telecommunications assets" into a REIT, Communications Sales & Leasing, Inc. (NASDAQ: CSAL).
After the bell on March 27, the S&P 500 Index announced that it was removing Windstream, a technology/telecom company, and replacing it with net lease REIT Realty Income Corp (NYSE: O).
It is a bit ironic, that the CS&L REIT spin-out was a primary catalyst for the S&P 500 to add $11.5 billion market cap Realty Income to this prestigious group of companies.
Tale Of The Tape
Windstream's dividend yield had been the highest of any S&P 500 company.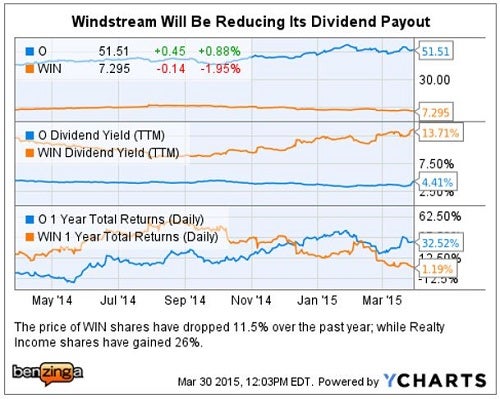 Following the REIT (PropCo) spin-off, the Windstream (OpCo) entity will do a 1-for-6 reverse stock split and convert itself from a corporation to a limited liability company. Windstream shareholders will get 0.2 CL&S shares for each Windstream share.
How Much Lower?
Windstream's new OpCo/PropCo structure will result in the combined WIN/CSAL dividend being lower than the $1.00 annual dividend Windstream had paid out to shareholders since 2006.
The new dividends authorized by the company are $2.40 annually per share for each CLAS share, and $0.60 per share for each new Windstream share.
After taking into account the share proration, the resulting combined dividend will be ~42 percent lower than the legacy Windstream dividend.
S&P 500's First Net-Lease REIT
Realty Income is a single-tenant net-lease REIT that will join 23 other companies organized as REITs in the S&P 500. REITs for the most part do not pay corporate income tax, in return for distributing at least 90 percent of taxable income to shareholders.
Realty Income is the first triple-net REIT to be selected to become an S&P 500 company.
The net-lease business model is easy to understand. Realty Income owns over 4,300 properties which are leased on a long-term basis to national, regional and other credit worthy tenants.
In addition to monthly rent payments, (which are usually subject to annual contract rent adjustments); tenants are also responsible for paying insurance, taxes and almost all of the building maintenance.
The Monthly Dividend Company
This business model produces a reliable stream of net operating income which can be used to pay dividends to shareholders. Realty Income pays out its annual dividend in equal installments.
In fact, Realty Income is also known as "The Monthly Dividend Company." Since becoming a NYSE listed company in 1994, Realty Income has declared 537 consecutive common stock monthly dividends and increased the dividend 80 times.
The current annual dividend yield of 4.4 percent is actually slightly higher due to the effects of monthly compounding.
Investor Takeaway
With the addition of Realty Income, 4.8 percent of the S&P 500 companies are now structured as REITs. Additionally, there are homebuilders and other real estate companies in the index.
Many investors do not realize they already have a significant exposure to real estate as an asset class by owning an S&P Index fund, or an ETF such SPDR S&P 500 (NYSE: SPY).
View Comments and Join the Discussion!
Posted-In: $CSALNews REIT Broad U.S. Equity ETFs Events ETFs General Real Estate Best of Benzinga