Oil Prices Rise And Fall, Again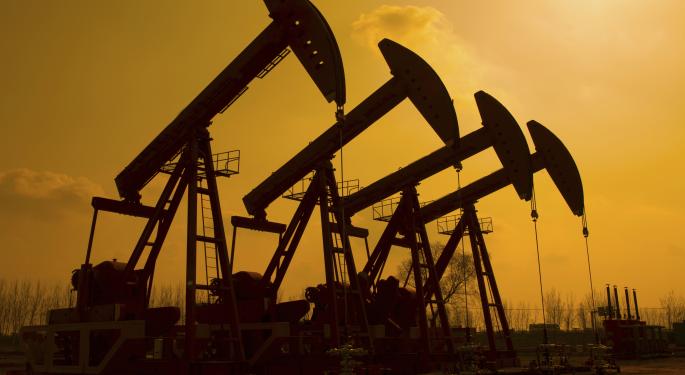 On Thursday, oil prices saw a sharp increase after news that renewed tension in the Middle East could threaten some Gulf producers' supplies.
However, by Friday morning WTI had sunken back to near $50 per barrel and shares of energy giants like Exxon Mobil Corporation (NYSE: XOM) had little to show for the commodity's comeback.
While tightening supplies are positive for markets, Thursday's roller coaster ride proved that investors may not be quite ready to put their trust in oil markets.
How Does Yemen Affect Oil?
Yemen produces a relatively small amount of oil compared to some of its larger neighbors, but the nation's position between some of the region's largest oil producers makes it an important pass-through for much of the world's crude.
Roughly 7 percent of the world's maritime oil passes through the Bab-el-Mandeb Strait adjacent to Yemen's coast.
On Thursday, Saudi Arabia began a military campaign against Iranian-backed rebels who have been trying to overthrow Yemen's government. If the fighting escalates, it threatens to close the straight as well as destabilize the entire region.
Why Didn't Markets React With More Gusto?
Investors are still being cautious when it comes to oil. Although the threat of a supply interruption is higher with the developments in Yemen, the lack of sustainable demand means the imbalance in the market isn't likely to equalize even Gulf supplies are reduced.
Also, first-quarter earnings are quickly approaching and no matter what the global marketplace looks like, the earnings data is expected to be dismal.
Related Link: U.S. Investors Look Abroad For Better Deals
Even if things have improved, most are expecting to see another dip in investor confidence once companies release their financials.
What's Next?
When it comes to commodities, no one can predict the near future with any certainty. However, most analysts are expecting oil prices to make their way back to normal levels in the long run.
For the time being though, investors are likely to remain cautious as the road to recovery is expected to be a bumpy one.
View Comments and Join the Discussion!
Posted-In: Bab-el-Mandeb Strait Middle East Oil YemenCommodities Global Top Stories Economics Best of Benzinga