Kraft-Heinz Merger Conference Call: A Play-By-Play Recap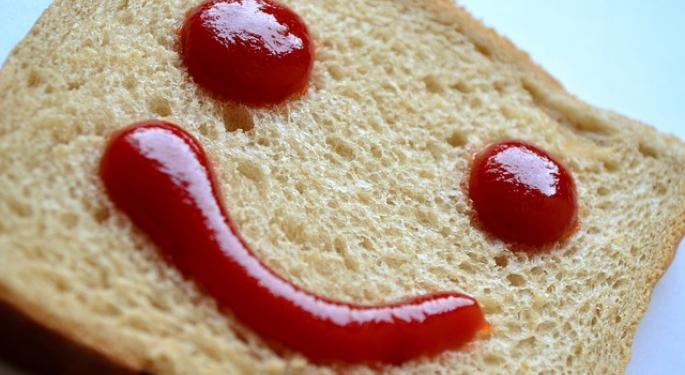 Wednesday morning, H.J. Heinz Company and Kraft Foods Group Inc (NYSE: KRFT) announced a definitive merger agreement to create a new entity called The Kraft Heinz Company.
The two held a press conference at 8:30 a.m. EDT to give further details. Below is a live blog of the events.
Update: Shares of Kraft opened at $81.33, up more than 32 percent.
See Also: What Wall Street Thinks Of The Kraft-Heinz Merger

9:32am: Conference call has ended.

9:31am: Kraft felt they were 'not very good at execution.Could be much better executors in the marketplace.'

9:27am: Asked why not take Kraft private: 'operated in public domain for 25 years. Like combination' of long-term shareholders and management balance

9:25am: 'We don't expect to overachieve' on synergies

9:22am: 1.25x synergies at $1.5B

9:21am: There is an intl. growth story to be capture din the future.

9:19am: Heinz expects 22-24% pro forma tax rate

9:16am: Full year is better guide and level going forward; having big headwinds from FX intl.

9:12am: Transaction accretive to Kraft internal plans going forward
9:10am: 'Not at all suggesting buying back' any Mondelez businesses

9:09am: $450-$500 million saved in cash for the company

9:08am: Asked about still evaluating portfolio, 'We feel great about these brands. All of them.'

9:06am: Asked about expansion on margins coming from the cost-side and not topline; '2014 had one less week than 2013'

9:04am: Q&A session begins.

9:02am: Berkshire and 3G 'stability in shareholder base provides support for implementing informative changes'

8:59am: Combined company will have 8 $1B brands and 5 $500M+ brands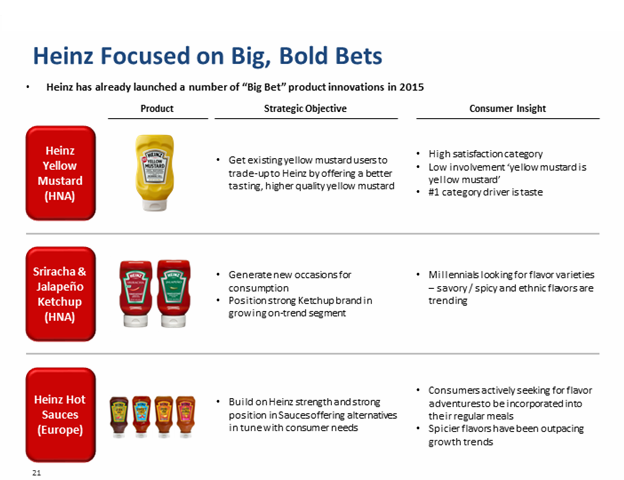 8:53am: Since June 2013, realized $1B operating improvements; promoted 1,400 top Heinz talent to management
8:51am: Heinz: 60% of sales outside of N.A.; 25% of sales in emerging markets
8:47am: Kraft benefits from near-total penetration in N.A. market; Kraft Brands have a truly intl. reach
8:45am: Berkshire/3G has been key driving force behind Heinz and behind this transaction
8:44am: Refinance $9.5B of existing-secured Heinz high-yield debt with new invest. grade debt at trans. close; Targeting $2B of debt pay-down within 2 years
8:42am: Company will be co-headquartered in Pittsburgh and Chicago
8:41am: 'Confident we can achieve $1.5B in cost-savings'
8:39am: Maintain dividend per share, which should increase over time; transaction expected to close in the second half of 2015
8:38am: Cahill: We view this as a partnership. Kraft shareholder will receive 1 shares of Kraft/Heinz; $16.50/share upfront cash payment
8:36am: Combo will create 3rd-largest F&B co. in N.A. and 5th-largest in the world
8:34am: Behring touts status and positions of the Kraft brand and Heinz brand
8:33am: Alex Behring: From day one, it was clear John [Cahill] and I shared the same vision for this combined company
8:32am: Chris Jakubik says this is 'truly an exciting moment'
8:31am: Shares of Kraft up about 33 percent at $82.14
Image credit: Public Domain
Posted-In: M&A News Best of Benzinga
View Comments and Join the Discussion!