IPO Outlook: Valeritas Seeks Funding For Revolutionary Insulin Pump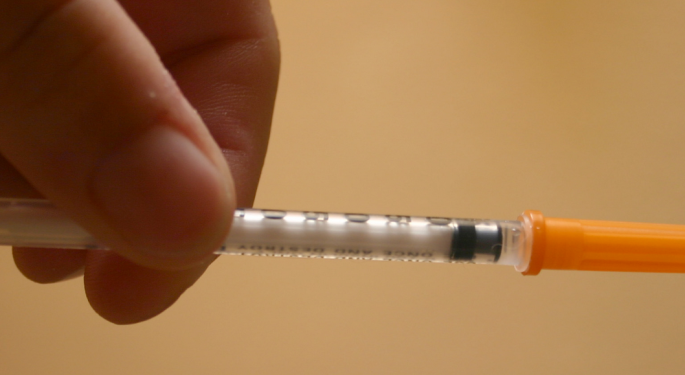 After a brief slowdown in the IPO market, insulin pump maker Valeritas Inc (NASDAQ: VLRX) sets its sights on a $75 million offering for Friday March 20. The medical technology company will issue 5.0 million shares on the NASDAQ.
Formed in 2006, Valeritas is a commercial-stage medical technology company focused on creating cutting-edge technologies to improve the lives of people with Type 2 diabetes. It currently markets its new medical device V-Go, the first disposable insulin pump that adheres to the skin, delivering insulin in a simple, user-friendly, cost-effective and convenient manner.
The company believes it's a better alternative for patients when compared to the inconvenience of pens, needles, and other pumps.
V-Go is available at retail and mail order pharmacies and is available for coverage under Medicare Part D. Furthermore, a bulk of commercially insured patients are covered for V-Go under their plans. The 2014 National Diabetes Statistics Report released by the CDC notes that Type 2 Diabetes presently affects between 90 percent and 95 percent of 22 million U.S. adults diagnosed with diabetes.
Related Link: Could Summit Materials Put The IPO Market Back On The Road?
Valeritas believes that the 12.8 million adults that treat their diabetes can benefit from V-Go's revolutionary approach to managing the condition.
Fundamentals
Currently, Valeritas generates all of its revenue from V-Go sales, its only commercially available product. The company sells the product to third-party wholesalers and medical supply distributors that take ownership of V-Go and then sell it to retail pharmacies and directly to patients.
Revenue grew 118 percent from $6.1 million in December 2013 to $13.4 million December 2014.
Since the inception of V-Go, the total number of prescriptions and patients using V-Go has increased quarter after quarter. Valeritas estimates that roughly 83,000 V-Go prescriptions were filled during 2014 and about 13,000 Type 2 diabetes patients were using V-Go in the same year. Investors should monitor supply issues from suppliers, regulatory conditions, and contracts with third-party wholesalers and distributors since any adverse effects could reduce revenue from Valeritas' only product.
Valeritas is still operating at a loss and expects to continue while the company expands its sales, marketing and R&D efforts to gain market share in the U.S. and in Europe. Valeritas' net loss has decreased by 25 percent from $87 million in December 2013 to $65 million at the end of last year.
In October 2013, the company initiated a restructuring effort to lower cash expenditures. Valeritas cut spending on marketing, manufacturing, work force, and inventory. Its return on sales increased from -1,355 percent in 2013 to -437 percent in 2014. Cost of goods sold (COGS) decreased from a favorable relationship with a contract manufacturer from $18.2 million to $17.8 million.
Competition
Valeritas' V-Go competes primarily in the market as part of a basal-bolus insulin therapy regimen. The primary competitors in this space include Novo Nordisk, Sanofi S.A., and Eli Lilly, manufacturers of insulin and insulin pens. Astrazenca and GlaxoSmithKline also offer injection products similar in treatment to Valeritas. V-Go's advantage is that it is the only disposable basal-bolus insulin delivery product currently on the market.
Early this year, insulin pump maker Asante Solutions postponed its IPO; peer Tandem Diabetes Care (NASDAQ: TNDM) currently trades below its offer price of $15 from its November 2013 IPO.
Use of Proceeds
Valeritas plans to use the majority of its offering proceeds to grow its sales and marketing infrastructure for V-Go. A portion of the proceeds will go toward funding of R&D, engineering activities, and manufacturing to further develop and commercialize its pre-filled V-Go.
Any remaining proceeds will be used for working capital and general corporate purposes.
Other Offerings For The Week
Thursday, March 19
National Commerce Corp (NASDAQ: NCOM): 1.6 million shares expect to price between $18:50 to $20:50 through Keefe, Bruyette, & Woods, Raymond James, and Sterne Agee.
Friday, March 20
SteadyMed (NASDAQ: STDY): 4.2 million shares expect to price between $12 to $14 through Wells Fargo, RBC Capital Markets, JMP Securities.
Valeritas (NASDAQ: VLRX): 5.0 million shares expect to price between $14 to $16 through Piper Jaffray, Leerink Parnters, and Oppenheimer & Co.
Disclosure: At the time of writing, the author holds no positions in the mentioned securities.
Image credit: Needle, Wikimedia
Posted-In: News Previews IPOs Trading Ideas Best of Benzinga
View Comments and Join the Discussion!