Is QE The Answer To Europe's Problems?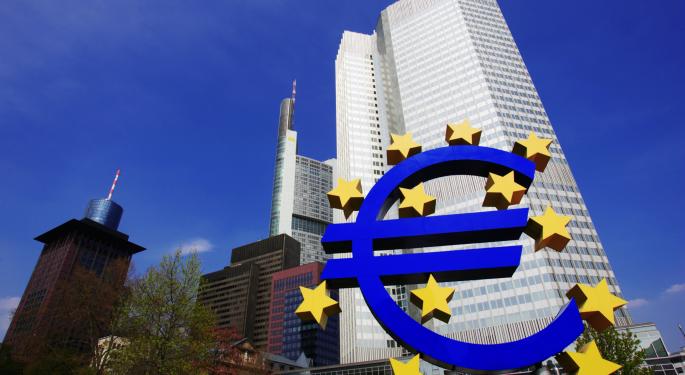 Last week, the European Central Bank began its large-scale bond buying program in an effort to boost the eurozone economy and inject some cash into the region's faltering financial system.
So far, the purchases have upped investment and taken some of the region's largest share markets higher.
The German DAX has seen an 11 percent increase so far this year, while the French CAC 40 and Italian MIB have gained 9.5 percent and 8.5 percent respectively.
Biggest Winners
The ECB's QE has had a major impact on companies that do much of their business abroad as the program has sharply devalued the euro.
Automakers like Daimler AG will be able to increase incentives for dealers abroad and expand their U.S. sales as the stronger dollar will make their products more competitive.
Banking firms are also likely to profit from the ECB's QE. The influx of fresh cash is meant to make lending to small businesses and individuals more attractive for banks.
While the sector has suffered from a lack of trust from individuals and cautious spending among corporations, many expect banks to see an influx of loan applications in the coming year.
Related Link: What You Need To Know About The Euro Heading Toward Parity With The Dollar
Too Good To Last?
While initial reactions from share markets have been promising, many believe that the eurozone's reaction to its economic crisis is fundamentally flawed.
Although large-scale QE has proven effective in the U.S., the eurozone's fractured financial markets have made it difficult for the ECB to carry out necessary reforms.
Over the weekend, Greek Finance Minister Yanis Varoufakis warned that the ECB's QE program wasn't the answer to all of the region's financial problems. He said that despite the initial lift in share markets, increased investment in the eurozone is unlikely to continue.
Varoufakis, along with many other experts, has cautioned that the current rally is unsustainable given the region's current economic conditions.
View Comments and Join the Discussion!
Posted-In: European Central Bank European Union Quantitative Easing Yanis VaroufakisEurozone Top Stories Economics Markets Best of Benzinga