A Recap Of Disney's Annual Shareholders Meeting: Stars Wars, 'Frozen' And More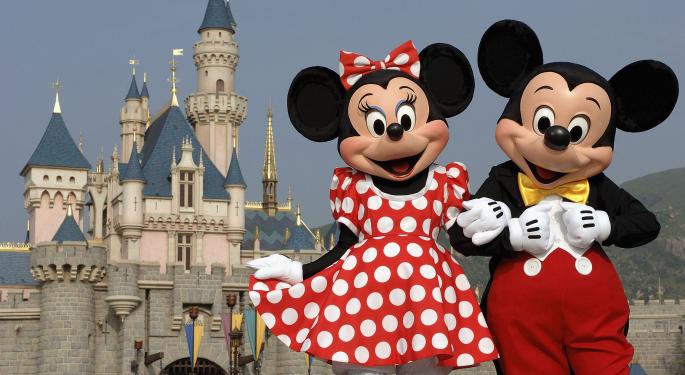 This is a live blog covering Walt Disney Co's (NYSE: DIS) annual meeting of shareholders. The meeting begins at 10:00 a.m. PDT / 1:00 p.m. EDT.
Refresh this page for frequent updates.
The meeting has now come to a close.
01:48:14: Disney and Pixar Chief Creative Officer John Lasseter said that the team had so much fun making the short "Frozen Fever" that it was excited to make a sequel. Josh Gad joked that the "Frozen" sequel was going to be called "Rogue One."
01:47:50: Disney announced that "Frozen 2" is in development.
01:46:14: Josh Gad, voice of Olaf in "Frozen," joined the meeting.
01:35:02: "Frozen" remains the biggest animated film of all time, "Big Hero 6" is now third behind "The Lion King." "Feast" won best animated short, making it only studio to win both best animated short and best animated film in the same year.
01:34:13: Iger reiterated that "The Good Dinosaur" is coming this fall. Said that animation is incredibly important to Disney and has always been its heart and soul. Said the company's most successful times has been when its animation thrived, and that's the case today.
01:30:33: Iger said that he hoped Pixar would help the company boost its animation across the board when it joined in 2006. He believes it worked. Noted that "Inside Out" reflects the "creative genius that Pixar is known for."
01:27:13: Iger reiterated the deal between Sony and Disney to feature Spider-Man in Marvel Universe films. Praised the new "Cinderella" film. Referred to "Tomorrowland" as a "fantastic, futuristic adventure."
01:27:02: "The movie is absolutely fantastic," Iger said the new "Avengers."
01:26:48: It must be a very long clip. The meeting has yet to return.
01:23:11: Iger reiterated that 11 Marvel films will debut in the next four years. The latest "Avengers" trailer was viewed 35 million times upon debut. Disney is now showing a new clip from the film…which investors at home cannot see.
01:22:30: "This is a huge year because 'Star Wars: The Force Awakens' is just one" major film coming out in 2015, Iger said.
01:21:51: Iger praised ESPN's success, said it is at the top of its game.
01:19:50: There are a lot of visuals that investors at home are not being shown. Will this inspire more investors to attend future meetings?
01:19:34: First Latino princess will debut in a cartoon series next year.
01:18:21: Iger said ABC is the only network to grow its audience this season.
01:17:14: Iger said that Shanghai Disneyland is coming along nicely, major construction will be wrapped at the end of this year. Disney is planning a grand opening in spring 2016. Said the park will feature the company's grandest castle yet.
01:13:50: Eleven separate Disney products generated more than $1 billion in global revenue over the last year.
01:11:20: Iger showed off concept art from Rogue One. He also said that the second Star Wars sequel will be released on May 26, 2017.
01:10:03: Iger said the first Star Wars spinoff will be released in December 2016. Title: Rogue One. Starts filming this summer.
01:09:55: "Just wait until you see the whole movie," said Iger. He said director JJ Abrams has created something truly spectacular.
01:07:11: "We're all incredibly excited" about Star Wars. The teaser trailer has been viewed 150m times.
01:05:02: Disney CEO Bob Iger picked up one of the first Apple Watches with Mickey Mouse on it.
01:01:40: The meeting is starting.
12:58:09: Disney is constantly acquiring new animated series.
12:57:17: The company, which owns Marvel, Lucasfilm, Pixar and a number of other key properties, has impressed many analysts this year.
12:56:23: Disney performed very well during the first quarter.
12:56:01: Disney shares are up three percent today.
Disclosure: At the time of this writing, Louis Bedigian had no position in the equities mentioned in this report.
Posted-In: disneyNews Events Top Stories Tech Best of Benzinga
View Comments and Join the Discussion!