Meet The 3 Companies Goldman Sachs Says Are Leading The Bitcoin Revolution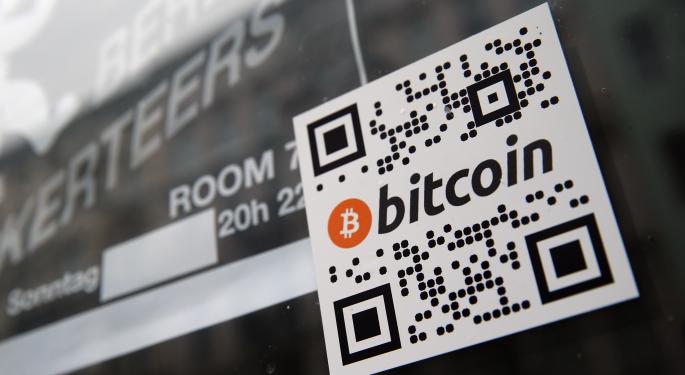 Goldman Sachs' equity research analysts say that bitcoin and similar cryptocurrencies could be the "future of finance" as the demand for a new way to move money continues to rise.
In a report titled The Future of Finance: Redefining The Way We Pay in the Next Decade, authors James Schneider and SK Prasad Borra say merchants will be the largest companies to benefit from the shift toward cryptocurrencies and highlight three existing bitcoin-based businesses as the leading firms in the cryptocurrency space— Coinbase, BitPay and Ripple Labs.
Coinbase
Coinbase is a California-based firm that opened the first regulated bitcoin exchange in the U.S. this year.
The company was able to raise $75 million in funding from several high profile investors including the New York Stock Exchange in order to roll out the exchange, which has gained regulatory approval in roughly half of U.S. states.
The company also recently joined the Internet Association alongside big shots like Amazon Inc. (NASDAQ: AMZN) and Facebook Inc. (NASDAQ: FB) in an effort to keep the cryptocurrency's interests at the forefront of internet regulation.
BitPay
BitPay is a global payment processing firm that allows merchants to accept bitcoin in exchange for goods or services. The company has signed several high-profile deals in the past year, bringing bitcoin one step closer to public adoption.
Most recently, BitPay partnered with Adyen in order to make bitcoin acceptance possible for some of the world's largest companies using their current payments system.
Related Link: Bitcoin Company Raises Record Amount Of Cash For Mystery Operations
Ripple Labs
Ripple Labs is a digital payments company that uses the technology powering bitcoin in order to allow companies to transfer money internationally.
The firm uses a cryptocurrency similar to bitcoin in order to validate transactions and make worldwide money transfers in various currencies simple and cost-effective. The company recently hired Ex-Federal Reserve official Norman Reed as its Chief Compliance Officer, saying that Reed's experience will help the company move forward and integrate into the banking sector.
Posted-In: Bitcoin BitPay Coinbase Goldman Sachs Ripple LabsTop Stories Tech Best of Benzinga
View Comments and Join the Discussion!