Marijuana Investment: Is It Time?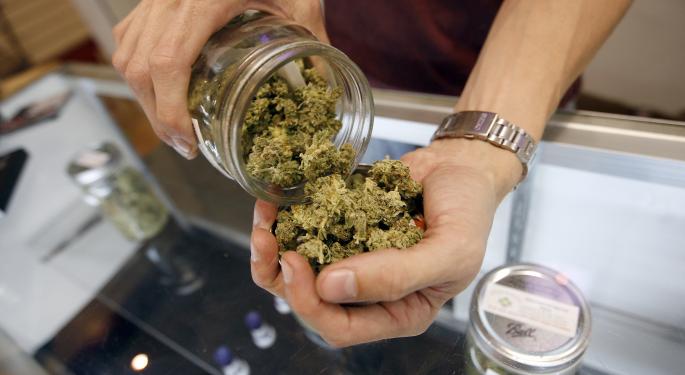 With recreational marijuana already legalized in four U.S. states and medical marijuana legislation quickly spreading, investors are chomping at the bit to get in on the newly created industry.
However, since federal law still considers marijuana possession a criminal offense, many worry that politics could topple the industry before it has had a chance to develop.
Colorado Data Encouraging
After a year of allowing both recreational and medical marijuana, Colorado's financial data regarding the drug were impressive.
The state earned a quarter of its GDP from combined medical and recreational marijuana sales, bringing in $699 million in total sales and $76 million in tax and licensing revenue.
That kind of money could be enough to persuade other states to loosen their cannabis regulations in the years to come.
Risky Business
There are few options for investors looking to dip their toe in the marijuana investment pool. Most cannabis-related stocks trade Over The Counter and carry a high degree of risk.
Pharmaceutical companies that use cannabinoids like GW Pharmaceuticals PLC-ADR (NASDAQ: GWPH) and Insys Therapeutics Inc (NASDAQ: INSY) have been a popular choice, as they limit exposure. However, those companies have no stake in the quickly growing recreational pot industry.
Founders Fund Leads The Charge
Venture capital fund Founders Fund was the first major investment firm to back the cannabis industry by spending millions to support Privateer Holdings, the parent company of three marijuana-related businesses.
Privateer has raised nearly $100 million in two rounds of fundraising in order to expand its operations and invest in up-and-coming marijuana firms. Currently, Privateer owns Tilray, an online marijuana database; Leafly, a Canadian growing company; and Marley Natural, which is said to be on track to become the "Marlboro of marijuana."
Related Link: Lawmakers Push For Federal Law To Align With States' Marijuana Legalization
Investment Opportunities Few And Far Between
Most analysts agree that the marijuana industry is still too young and risky for the average investor.
Although it's possible that big-brand tobacco companies could get on board with marijuana and give investors a safer point of entry, most believe that day is still years away.
Until legislation across the U.S. is more unified, it is unlikely that a marijuana-related business will make its way to a major exchange.
View Comments and Join the Discussion!
Posted-In: Founders Fund Leafly marijuanaCannabis News Top Stories Markets Trading Ideas Best of Benzinga