Actavis' Avycaz Delivers A One-Two Punch To Superbugs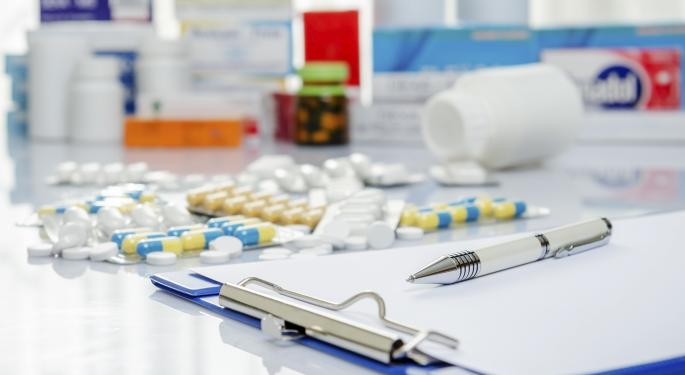 Historically, the U.S. Food and Drug Administration has not exactly been a "speed demon" when it comes to approving new drugs.
Thanks to the Generating Antibiotics Incentives Now (GAIN) Act and forward-thinking companies like Actavis plc (NYSE: ACT) that are taking advantage of that opportunity, the tide may be shifting.
Related Link: Actavis' Growth 'Underappreciated," Sterne Agee Says
AVYCAZ – First In Its Class
AVYCAZ, a new antibiotic developed by Actavis has become the first drug in its class to receive approval based on Phase II data, according to a statement received from Actavis.
"The FDA approval of AVYCAZ is an important step forward in enhancing our ability to respond to serious infections caused by difficult to treat Gram-negative pathogens," said Executive Vice President David Nicholson (Global Brands Research and Development, Actavis).
Superbugs Beware
According to Nicholson, who spoke with Benzinga, "AVYCAZ is a combination product of ceftazidime and avibactam."
He explained that avibactam restores the activity of ceftazidime to treat certain so-called "superbugs," or drug-resistant infections.
In the case of AVYCAZ, these infections include complicated intra-abdominal infections (cIAI) and complicated urinary tract infections (cUTI).
"We were very pleased to be working with the FDA," Nicholson said, "to advance the approval of AVYCAZ as quickly as possible to make this important new treatment option available to physicians and patients at the earliest possible time."
Stipulations
Priority review and approval under the GAIN Act comes with some stipulations.
Use of the drug AVYCAZ is currently reserved for patients who have limited or no alternative treatment options.
On the other hand, Actavis plc was granted a five-year regulatory extension of exclusivity under the Hatch-Waxman Act.
"The important thing," Nicholson said, "is that it (AVYCAZ) works against these treatment resistant Gram-negative bacteria, which is a growing problem in hospitals around the world and in the United States."
AVYCAZ will be available in the second quarter of 2015.
Phase III Trials
"We are in the middle of completing the Phase III trials," Nicholson said, "and the data from those Phase III trials will be submitted at a later date to the agency (FDA)."
At that time, he explained, Actavis would update the label and likely expand the indications based on the additional data.
"It's very exciting that the agency has approved the drug on the basis of Phase II data," Nicholson said, "and I think they are to be commended for doing so."
Related Link: UPDATE: Actavis Tops Q4 Views
The Need For New Drugs
"You can't beat nature," Nicholson told Benzinga. "These bugs will continue to mutate."
The solution, he said, is to "continue to come up with double agents (like AVYCAZ) that will kill the bugs that are presently resistant. Then, you have to use the antibiotics effectively. There's a big need for multiple antibiotics."
At the time of this writing, Jim Probasco had no position in any mentioned securities.
View Comments and Join the Discussion!
Posted-In: avibactam AVYCAZ ceftazidimeHealth Care FDA Exclusives Interview General Best of Benzinga