Greece Bailout Talks Grind To A Halt, Markets Reconsider Possible 'Grexit'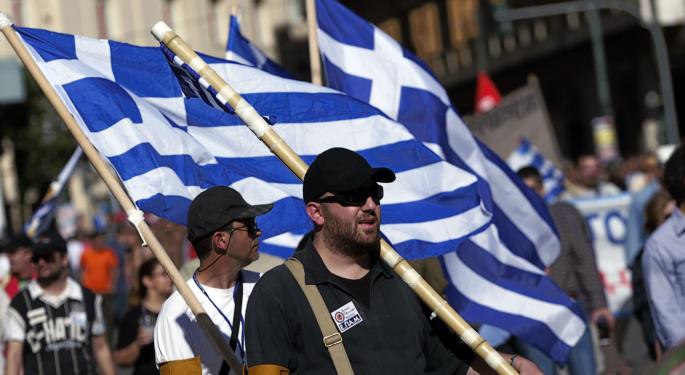 Markets around the world were on edge Tuesday morning after Greece and the European Union were unable to come to an agreement at Monday's meeting regarding the nation's funding issues.
The collapse of negotiations was troubling for investors who have been underestimating the possibility that no deal would be reached.
Talks Collapse
At Monday's meeting, eurozone finance ministers worked to convince Greek officials that the nation should accept an extension on its bailout program and work out the details of a new deal after the funding has been delivered.
However, Greek finance minister Yanis Varoufakis said the terms of the deal are detrimental to Greek society and that he is willing to make a deal, but not under these conditions.
Following the meeting, the depth of the divide was clear with the EU saying it was up to Greece to accept the bailout funds or run out of money at the end of the month.
What Would A 'Grexit' Mean?
If Greece does not accept the terms of its bailout extension and take the final installment of funding on February 28, the nation will probably run out of money by mid-March, leaving it unable to pay back a €14.5 billion bond due March 20.
Without the capacity to repay its bondholders, Athens would be forced to exit the eurozone, something that would likely disrupt the wider global economy.
Some analysts estimate that a Greek exit from the eurozone would wreak more havoc on financial markets than the 2008 Lehman Brothers collapse.
Related Link: Treasury, Greece And Cyber Security ETFs To Watch This Week
Investors Keep Calm And Carry On
While the deterioration of negotiations Monday was seen as a warning sign, most are still optimistic about a future agreement. Because a Greek exit from the eurozone is not in the best interest of either side, investors are expecting a last minute deal.
With the bailout funding due on February 28, a solution is anticipated in the next week or so.
View Comments and Join the Discussion!
Posted-In: Eurozone Grexit Yanis VaroufakisNews Eurozone Global Top Stories Markets Best of Benzinga