5 Major Stories You Might've Missed This Week (From Apple TV To The SEC)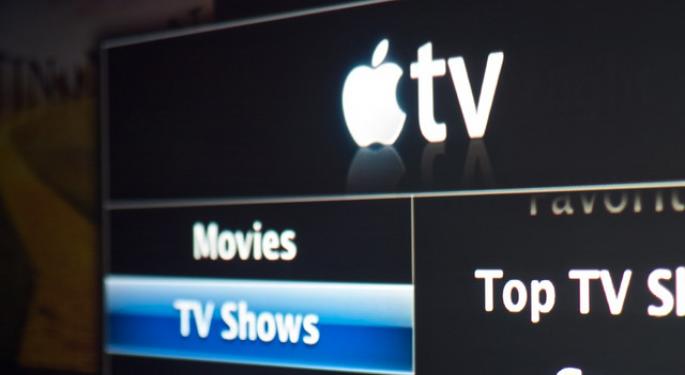 Will there ever come a time when Apple Inc. (NASDAQ: AAPL) fails to provide one of the top stories of the week?
Absolutely -- it happens a few times a year. Other than that, the Cupertino, California-based tech giant tends to be a dominant (if not the dominant) force in technology.
Here are five major stories readers might've missed this week.
Apple Television Set Or Pay-TV Service? Rumors Heat Up
What will the future hold for Apple's long-awaited TV set and accompanying pay-as-you-go TV service?
It seems the TV plans may have been scrapped or put on hold for now, but that doesn't mean Apple is getting out of the space. Rather, Apple is now expected to launch a pay-TV service along the lines of Sling TV from DISH Network Corp (NASDAQ: DISH).
"Steve Jobs" biographer Walter Isaacson isn't too concerned about the form factor, however.
Investors might find that a bit ironic given his history in promoting Apple's rumored television set.
Twitter Soared After Reporting 'Impressive' Results…
Twitter Inc (NYSE: TWTR) rose more than 10 percent in after hours trading Thursday (and closed up 16.36 percent Friday) after the company reported its quarterly results.
"They crushed the quarter," Sean Udall, CIO of Quantum Trading Strategies and author of The TechStrat Report, told Benzinga.
Cody Willard, chairman of Scutify (a financial social network), told Benzinga that he owns Twitter because he thinks it's a "revolution investment." The quarter reinforced his belief.
…Now The Company Wants To Monetize 500 Million Logged Out Users
Twitter has officially teamed up with Google Inc (NASDAQ: GOOG) to monetize the hundreds of millions of people who use Twitter in some capacity but don't log in.
"Google's already crawling Twitter for tweets, so they're showing up in organic search because Google is being Google," MKM Partners analyst Rob Sanderson told Benzinga.
"That's how Google works. This is just opening the data pipes so that it's easy. You're probably going to rank higher, you're probably going to get more traffic via organic search than you're getting now. But they're already getting some."
Former SEC Commissioner: Staples-Office Depot Merger Likely To Go Through
Staples, Inc. (NASDAQ: SPLS) wants to buy Office Depot Inc (NASDAQ: ODP) for $6.3 billion. Regulators quashed the original merger when the two firms attempted to unite several years ago. This time is likely to be different.
"The world has changed quite considerably since the '90s when that merger was first proposed and not allowed to go forward," former SEC Commissioner Steve Wallman told Benzinga.
"My guess is it will be allowed to forward now. Both Staples and Office Depot have [not] been the most fast-growing companies over the last few years. There have been some real problems for them and I think that market is going to get more and more challenging."
Apple And 3D Printing: A Perfect Match?
There has been a lot of talk surrounding Apple and its speculated plans to develop a 3D printer.
"I would not be a bit surprised if at some point we see Apple either be a big user of 3D technology or a maker or a designer of 3D-type technology," Udall told Benzinga.
Disclosure: At the time of this writing, Louis Bedigian had no position in the equities mentioned in this report.
Image credit: Tom Small, Flickr
Posted-In: Apple Google Office Depot Staples twitterNews Tech Best of Benzinga
View Comments and Join the Discussion!