Apple Watch Buzz Opens New Business Opportunities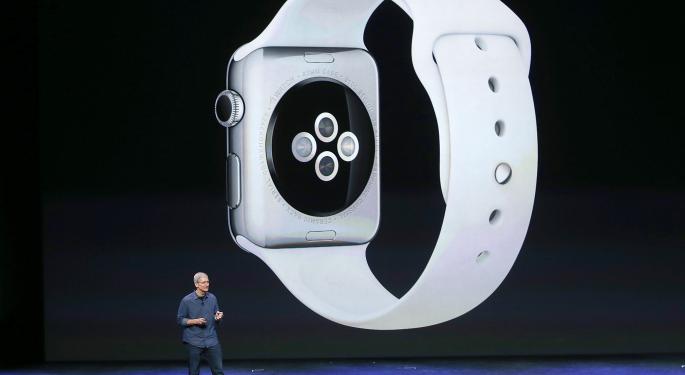 Buzz around Apple Inc.'s (NASDAQ: AAPL) new smartwatch has been growing in recent weeks as anyone and everyone in the tech space tries to get in on the action. While the Watch isn't expected to be available until March, developers are already working to have their apps prepared to launch when the device does.
Big Names Up Their Game
Big name companies have been working to tailor their services to a wearable device. Facebook Inc (NASDAQ: FB) and Twitter Inc (NASDAQ: TWTR) have been working to create apps that will be usable on a smaller screen and will function seamlessly with the Watch's technology. However, while well-known apps have the upper hand in the market because of their existing popularity, they may struggle to make their products valuable in this new arena.
Related Link: Cantor Fitzgerald: Apple Watch Will Be Biggest Product Launch In Company's History
The wearables market could mean shorter attention spans, smaller screens and less user interaction. For companies who have already been established on smartphones and tablets, it could represent a new challenge of utilizing the Watch's features to enhance their own site.
Startup Revolution
The Apple Watch is expected to create a new boom of startups and app developers as it opens up an untapped market of wearable devices. The Watch's iBeacon support will likely feature in some of the new apps' functionality as it will allow companies to target the location of a user within centimeters. For fitness apps like MyFitnessPal or RunKeeper, that type of functionality could increase the value of their offerings.
In other cases, device integration is the biggest concern. Yo, a simple app that sends "yo" messages, plans to simply use the Watch as a notification center. Evernote is hoping to make its complex organizational app a bit simpler for Watch users, saying that ease of use will be extremely important for widespread adoption once the Watch launches.
Advertisers Already On Board
Advertisers are chomping at the bit to get their campaigns in front of Watch wearers. TapSense has already created a platform that will be able to place ads within individual applications in a format that will be usable on the Watch. The Watch's location data is expected to become a huge asset to marketers, as it will enable them to reach their target market at a convenient location. So users who are using the Watch to navigate a grocery store may see ads for a particular new product on sale in the isle they are browsing.
Posted-In: App Store Apple Watch MyFitnessPal RunKeeper TapSense wearablesTop Stories Tech Best of Benzinga
View Comments and Join the Discussion!