Deflation In The Eurozone Could Hurt These 3 Companies' Expansion Efforts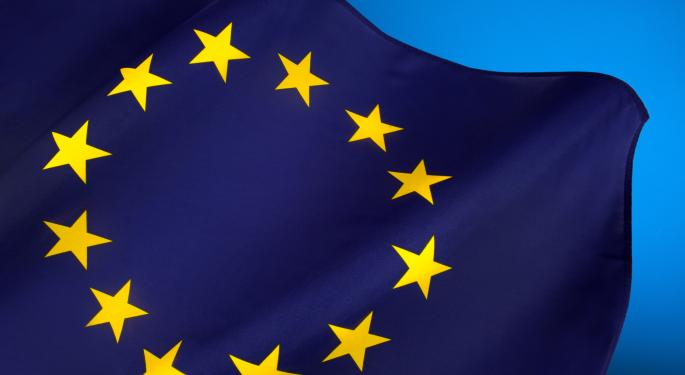 Data out Wednesday confirmed what many have been fearing; the eurozone slipped into a period of deflation in December. The report showed that consumer prices in the bloc fell 0.2 percent from a year earlier, a worrying sign that the region's financial troubles may continue to worsen.
If the period of deflation persists, the bloc's member countries may struggle to service the mountains of debt accrued during the financial crisis. Italy, Portugal and Greece all carry a concerning high debt-to-GDP ratios and would be at risk for defaulting.
Deflation could also cause a marked lack of demand across the region as consumers shift toward saving and companies become reluctant to invest. This could be a major problem for several U.S. companies that were looking to expand into Europe this year.
Related Link: Should Greece And Another Round Of The European Debt Crisis Be On Your Radar?
Netflix
Netflix, Inc. (NASDAQ: NFLX) recently launched its services in select European countries including France, Germany and Belgium. The streaming service is already facing challenges regarding expensive licensing agreements and pushback from local governments, so a drop in disposable income could take a toll on subscriber numbers.
Lululemon Athletica
Lululemon Athletica inc. (NASDAQ: LULU) is also forging a path into Europe after a very "public battle" between its board members and founder in 2014. While yoga apparel may have a strong following in most European countries, the brand's premium price tag may not sit well with consumers who are tightening their purse strings.
Hertz Global Holdings
Hertz Global Holdings, Inc. (NYSE: HTZ) is also in the midst of a European expansion this year; the company recently opened 116 of its Dollar Thrifty locations in Germany on January 1. The company has been looking to make tracks in Europe since 2013, but current conditions on the continent could push consumers to cut back on travel in an effort to save.
Posted-In: Belgium Dollar Thrifty euro Eurozone FranceEurozone Markets Trading Ideas Best of Benzinga
View Comments and Join the Discussion!