Why Ocwen Financial And Altisource Portfolio Are Down Double-Digits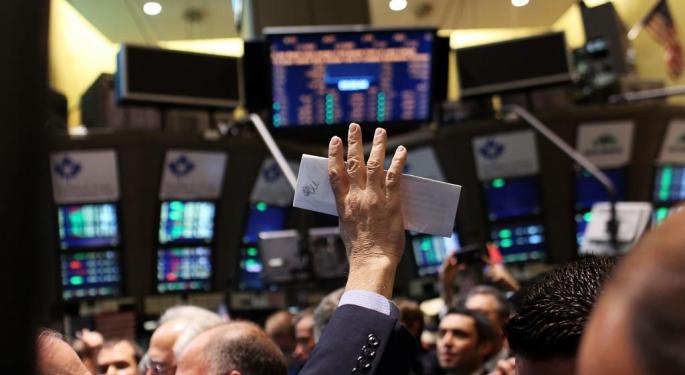 The mastermind behind the complex web of Ocwen Financial Corp (NYSE: OCN), Altisource Portfolio Solutions S.A. (NASDAQ: ASPS), and three other publicly traded Altisource/Ocwen firms, has stepped down from his executive chair boardroom seats.
Bill Erby's complicated entity structure -- with boardrooms spanning from the Cayman Islands to Luxembourg -- was spawned in an attempt to maximize each piece of the revenue pie derived from servicing non-performing (residential mortgage) loans (NPLs).
The Ocwen/Altisource family of companies also includes: Altisource Asset Management (NYSEMKT: AAMC), Home Loan Servicing Solutions (NYSE: HLSS) and single-family rental REIT Altisource Residential (NYSE: RESI).
Shares Spike Lower On Latest News
It was a huge win for Benjamin Lawsky, who served as head of the New York State Department of Financial Services (NYDFS). The NYDFS -- which did not participate in a nationwide settlement approved by the other state attorney generals -- had managed to slow, and now apparently decapitate, the Ocwen five-headed mortgage servicing rights (MSRs) juggernaut.
Shares Crushed By Investigations
Ocwen had already been hit by a $2.1 billion settlement with the U.S. Consumer Financial Protection Bureau (CFPB), and was also reeling from the delay and the eventual cancelation of a deal with Wells Fargo, which Lawsky refused to approve.
The Wells Fargo NPL portfolio consisted of 184,000 residential mortgage loans totaling ~$39 billion in unpaid loan balances which Ocwen was prevented from servicing -- and attempting to renegotiate, or foreclose on the loans.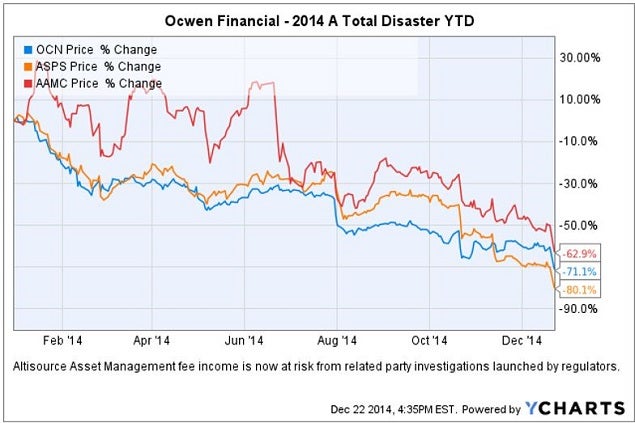 The cancelation of the Wells Fargo deal was a severe blow. It effectively took away Ocwen's ability to grow its mortgage servicing portfolio unpaid mortgage balances, even as old loans continued to be resolved and come off the books.
Not All Gains Have Been Erased
Even in the face of a series of damaging regulatory reports and related negative headlines, not all has been lost for investors in all of the formerly Bill Erby led companies.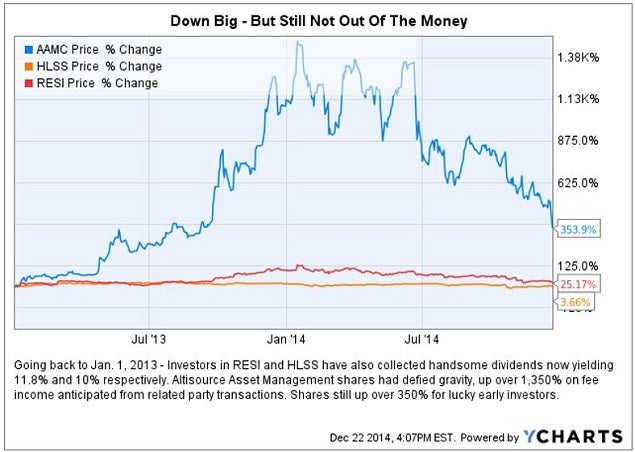 It is notable that even though Altisource Asset Management shares were crushed ~63 percent YTD stemming from investigation of now admitted misconduct at Ocwen entities -- early shareholders are still up big on their investment.
High Yields, But Worth The Risks?
Altisource Residential had successfully pioneered a different twist on acquiring single-family homes to rent. The Altisource business model is based upon acquiring portfolios of non-performing residential mortgages, typically from Ocwen entities. It now yields over 11.5 percent.
This sometimes results in Altisource foreclosing and acquiring a home that can either be rented out or sold. The negotiations between Altisource and a delinquent homeowner are also regulated.
Bottom Line
Bill Erbey created a very complicated corporate structure which was designed to maximize profits derived from his patented processes and procedures developed over many years.
However, the primary focus at Ocwen has now shifted to compliance and accuracy under the regulators scrutiny -- a far cry from the investor friendly profits and growth strategy under former executive chairman Bill Erby.
The Erby quote: "The product we service is a very difficult product to service by and large," has now proven to be painfully prescient for both homeowners and shareholders alike.
Posted-In: Bill Erby CFPB NYDFSTechnicals Trading Ideas Real Estate Best of Benzinga
View Comments and Join the Discussion!