Falling Gas Prices Are 'The Gift That Keeps On Giving'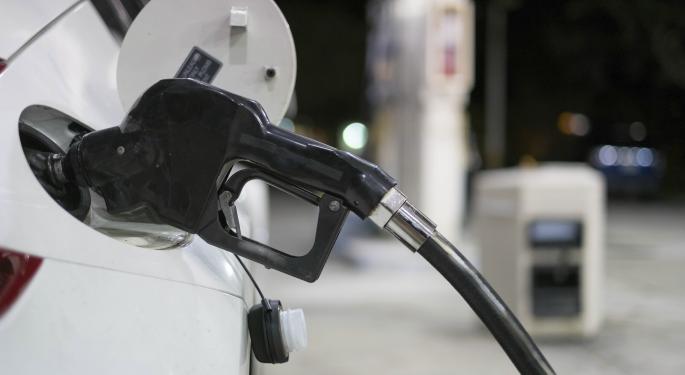 "As Americans take to the road for Christmas travel, they've all been given a gift that keeps on giving: falling gas prices."
That, according to Patrick DeHaan, senior petroleum analyst with gasoline price website GasBuddy.com, was good news for consumers Monday,
"Americans are saving over $13 million an hour versus gas prices a year ago," DeHaan added, noting that it totaled more than $315 million every day.
Related: Gas Prices Continue To Fall, Great Lakes See Biggest Benefit
Detroit Beating National Average
In Detroit, Michigan, the savings translated to average retail gas prices that were another 17.6 cents per gallon lower than last week according to GasBuddy.
At an average price per gallon of $2.27, Detroit area gasoline was selling for about 15 cents per gallon less than the national average of $2.42 per gallon, according to GasBuddy.
A year ago this week Detroit area motorists paid 88.6 cents per gallon more than they did Sunday. Moreover, consumers were paying almost 60 cents a gallon more than Sunday's price just a month ago.
Big Declines In Five States
According to DeHaan, "Big declines were witnessed in Montana, Michigan, Indiana, Idaho and Ohio, where average prices fell over 20 cents on average just in the last seven days."
Recent gasoline price decreases make Michigan the eighth-lowest in gas prices among all 50 United States. Ohio comes in sixth-lowest and Indiana fifth.
'Concrete Setting In'
Just in the past 24 hours, national gas prices have dropped another 7 cents per gallon, which represents one of the largest single-day decreases ever.
DeHaan, however, said he believed the end was in sight.
"I'm worried the decline may soon begin slowing," he said. "Oil prices have held in the mid-$50s, and the concrete may be setting in. If it does, and oil prices fail to drop below $50/barrel, gas prices likely won't drop more than another 10-20 cents per gallon."
Lower Average Price In 2015
DeHaan told Benzinga that GasBuddy's 2015 gas price forecast, which he said would be released no later than the first week in January, would contain some long-range good news for consumers.
According to DeHaan, "2015 will likely see a lower yearly average than 2014." Year-to-date, gas prices in the United States have averaged $3.367 per gallon.
Related: GasBuddy: 1 In 4 Holiday Travelers Affected By Lower Gas Prices
Price Spread To Compress
"This year has been significant," DeHaan said, "thanks to high prices, and a big decline."
According to DeHaan the per gallon price spread between winter low and summer high was $1.60 per gallon in 2014.
He did not foresee that kind of spread in 2015. "It's possible," he said, "we could see a 60-90 cents/gallon spread between winter low and summer highs."
At the time of this writing, Jim Probasco had no position in any mentioned securities.
Posted-In: Benzinga Detroit GasBuddyTravel Top Stories Economics Exclusives General Best of Benzinga
View Comments and Join the Discussion!