Zillow And Trulia Shareholders Voted 'Yes' On A Merger...So Why Did Shares Fall?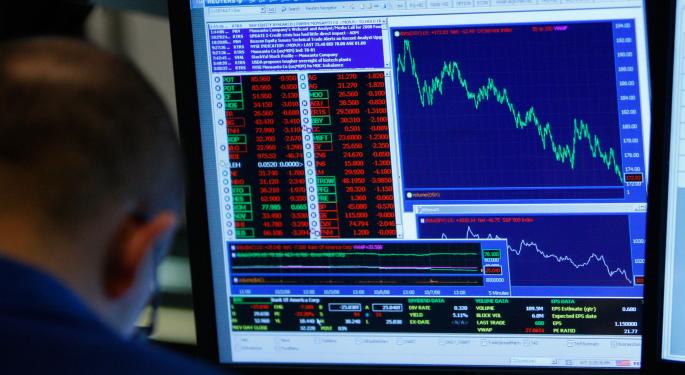 Online real estate listing portals Zillow Inc (NASDAQ: Z) and Trulia Inc (NYSE: TRLA) shareholders voted to approve the merger of the two largest internet real estate services websites on December 18.
The Dow was up 421 points, NASDAQ 104 points and the S&P rose 48 points -- each index powering up over 2 percent on the same day.
There should have been champagne flowing, balloons dropping and fireworks galore. However, there was one spoiler: Shares of Zillow and Trulia did not participate in the overall market rally.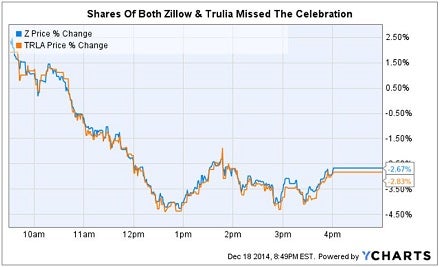 Why Didn't Zillow And Trulia Rise On The News?
That seems to be a question that can't be answered with any degree of certainty. Here are a few of the usual suspects:
• The two companies have yet to demonstrate that they have a sustainably profitable business model.
• The stocks trade at nosebleed Price to Sales ratios. It remains to be seen if actual growth will justify such lofty valuations. Zillow trades at a P/S of ~15x.
• Zillow monthly unique visitor metric peaked in July 2014 at 88.8 million. This coincided with the price of Z shares peaking at $164.90. Zillow shares closed at $107.35, or almost 35 percent lower than its 52-week high.
• Trulia shares peaked in July as well reaching $67.50, and are now off more than 30 percent from that high point.
• Insiders at both Zillow and Trulia continue to exercise low priced options and sell shares at the market price. There has been no history of insiders buying shares at market prices.
This combination, which would create a "Godzulia" online real estate powerhouse, still requires approval by the FTC prior to culmination.
Related Link: The Drama Shaking The REIT World Just Won't Stop
The Game Changer?
Competitor Move, Inc., which operates the realtor.com website, was recently acquired by Rupert Murdoch's media giant News Corp. (NASDAQ: NWS) (NASDAQ: NWSA). News Corp. owns the Wall Street Journal, Barrons and other media outlets.
There are at least two reasons this could be a game-changer moving forward in the battle for listings, real estate agents and advertising:
1. Listings are the life-blood of the real estate brokerage business. Move, Inc. owns the two largest multiple listing services portals, which provide Zillow with ~85 percent of its property listings.
2. On December 17, it was announced by News Corp. that one of its own executives, Ryan O'Hara, will be taking over the reins from CEO Steve Berkowitz on Jan. 5, 2015.
"Ryan will begin at Move in the first week of January, when we will also be rolling out a broad-based marketing campaign across The Wall Street Journal Digital Network to drive quality traffic to realtor.com," according to News Corp. CEO Robert Thomson.
"He also looks forward to working closely with the National Association of Realtors, a key and crucial partner of Move, knowing that Realtors are at the heart of American real estate transactions."
Bottom Line
Realtor.com was the first major Internet real estate portal. Unfortunately, it had squandered its first-mover advantage, and never was able to fully harness the horsepower of its relationship with the National Association of Realtors.
The stark reality for Zillow and Trulia is that they will now be up against a formidable media competitor that has direct access to accurate listing information from almost 100 percent of the 800-plus MLSs across the U.S.
View Comments and Join the Discussion!
Posted-In: BARRONS Inc. Move Realtor.com Rupert MurdochShort Ideas Trading Ideas Real Estate Best of Benzinga