WalletHub's 11 (Mostly) Upbeat Economic Predictions For 2015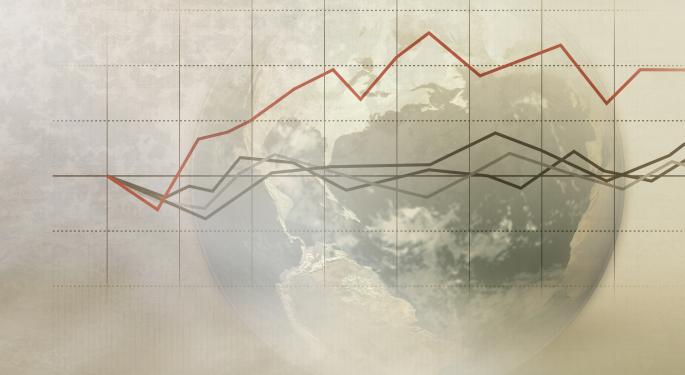 For many investors, the most coveted super power – assuming super powers were possible -- would likely be the ability to foretell the future accurately.
Personal finance social network, WalletHub, with help from a panel of experts, offered the next best thing with 11 economic predictions for 2015.
1. GDP Growth Of 3%
There was consensus among experts consulted by WalletHub that the U.S. economy would grow at about 3 percent in 2015.
That was encouraging given the fact 2013 saw just 1.9 percent growth and 2014 was expected to offer up a GDP of about 2.4 percent.
Related Link: Markets Rally On Better Than Expected GDP
2. Unemployment Down To 5%
When 2014 began, unemployment stood at 6.6 percent. Just this past November it was down to 5.8 percent.
WalletHub and its panel of experts expect the downward trend to continue, well below predictions by the Federal Reserve and other predictors of a 5.4 – 5.6 percent bottom in 2015.
3. Wages To Grow 3%
Wage growth over the past two years has averaged 2.9 percent. WalletHub does not see that changing significantly and said that aspect of the economy would likely hold steady near 3 percent throughout 2015.
Lack of improving wage growth, WalletHub said, would "continue to serve as an easily identifiable example of this country's income divide moving forward."
4. S&P 500 Will Hit 2,250
Author and TV personality Doug Kass has argued that the odds of a recession in 2015-2016 are much higher than many experts predict.
WalletHub sees it differently, calling for a 13 percent upside in the S&P 500 next year, compared to current levels.
One member of WalletHub's panel of experts, Terry Clower of George Mason University said, "Sputtering growth in Europe and relatively modest growth in China will keep interest rates low in those regions, which will make the U.S. stock market a good place to invest."
Related Link: The Bears Are Making Their List And Checking It Twice
5. Auto Sales To Hit 17 Million
With the average age of U.S. automobiles at 11.4 years, along with historically low interest rates and a growing economy, predictions of high auto sales in 2015 make sense.
With 2014 expected to end with about 16.5 million vehicles sold, sales of another half million cars and trucks in 2015 would seem a safe bet.
6. Home Sales Up
According to WalletHub, the reason this past year has seen real estate lag behind many other economic indicators can be blamed, in part, on the connection potential buyers made between the Great Recession and the housing bubble that preceded it.
A more stabilized economy and the number of millennials entering the housing market could portend an uptick in sales in 2015.
Realtor.com, for example, predicted existing home sales would increase 8 percent in the New Year.
7. Oil To Hit $50 Per Barrel
A number of prognosticators, including Pierre Andurand, have suggested oil would reach $50 per barrel in 2015.
GasBuddy.com senior petroleum analyst Patrick DeHaan told Benzinga he expected WTI to bottom out between $53 and $57 per barrel, and that the price could be imminent.
Robert K. Kaufman of Boston University told WalletHub, "If a cold winter, prices will bottom at about $60, but if the winter is mild, I could see a bottom in the low $50's."
8. Interest Rates Maintain Record Lows
As WalletHub sees it, the end of quantitative easing has not turned out to be the disaster that experts predicted.
With expectations for low interest rates to continue into 2015, those lower rates would be helpful to consumers and investors alike.
9. Consumers Will Rack Up $60 Billion In Credit Card Debt
WalletHub sister site, CardHub.com, suggested consumer credit card debt would rise by $70 billion in 2015.
That's more than the expected rise of $60 billion in credit card debt in 2014 and a clear indication that a return to record credit card account defaults could be close at hand.
Related Link: What Stable Rates Mean For The Bond Market Rally
10. Entrepreneurship Rates To Grow
An improving economy could help reverse the decline of entrepreneurships over the past several years.
In addition to the large percentage of entrepreneurs (78.2 percent in 2013) that have been coming from the traditional jobs, the number of recent college graduates who are unemployed or underemployed could drive the rate of entrepreneurship up in 2015.
11. Mobile Banking Takes Off
With online-only banks 32 percent cheaper than bricks and mortar institutions, according to WalletHub's 2014 Banking Landscape Report, mobile banking was expected to grow and thrive.
Adding icing to the cake, online banks provide savings rates 357 percent higher than branch-based counterparts, and monthly fees 257 percent lower, according to the WalletHub report.
View Comments and Join the Discussion!
Posted-In: Boston University CardHub.com Doug Kass Federal ReservePreviews Top Stories Economics Trading Ideas Best of Benzinga