Tech Stocks Underperform Following Apple's Flash Crash, Holiday Retail Sales Disappoint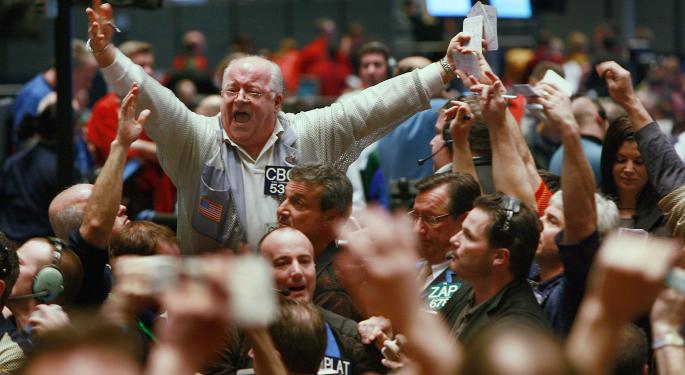 U.S. stocks were mostly lower on Monday, as the holiday shopping season may have disappointed some.
The National Retail Federation reported that spending over the four-day Thanksgiving weekend declined 11 percent to $50.9 billion.
However, ComScore estimated e-commerce spending rose 32 percent on Thanksgiving Day to $1.01 billion and rose 26 percent on Black Friday to $1.51 billion.
IBM analytics suggested Monday afternoon that Cyber Monday sales were 9 percent higher than they were a year ago.
Tech stocks underperformed the Dow and S&P 500, as tech investors may have been on edge falling a brief flash crash involving Apple. Elsewhere, the CBOE Volatility Index rose 6.2 percent to 14.16 as oil and gold rallied.
Meanwhile, the New York Fed President William Dudley suggested that a rate hike in mid-2015 seems reasonable.
"Market expectations that lift-off will occur around mid-2015 seem reasonable to me," Dudley said. "Although that could change depending on how the economy evolves, my views on 'when' do not differ appreciably from the most recent primary dealer and buy-side surveys undertaken by the New York Fed prior to the October FOMC meeting."
The Dow lost 0.29 percent, closing at 17,776.80.
The S&P 500 lost 0.68 percent, closing at 2,053.44.
The Nasdaq lost 1.34 percent, closing at 4,727.35.
Gold gained 3.21 percent, trading at $1,213.20 an ounce.
Oil gained 4.80 percent, trading at $69.44 a barrel.
News Of Note
November U.S. PMI Manufacturing rose to 54.8 (versus expectations of 55) from 54.7 in October.
Recommended: Citigroup On Lower Oil: Global Economic Growth Should Improve, Inflation Falls
China's PMI fell to 50.3 in November from 50.8 in October.
Moody's downgraded Japan's sovereign debt rating to Aa3 from A1.
Equities News Of Note
Analysts at Barclays maintained an Overweight rating on Apple (NASDAQ: AAPL) with a price target raised to $140 from a previous $120. Shares lost 3.28 percent, closing at $115.03.
Analysts at Evercore ISI maintained a Buy rating on Mastercard (NYSE: MA) with a price target raised to $110 from a previous $93. Shares hit new 52-week highs of $88.16 before closing the day at $87.46, up 0.19 percent.
Analysts at Evercore ISI maintained a Buy rating on Visa (NYSE: V) with a price target raised to $304 from a previous $261. Shares hit new 52-week highs of $260.65 before closing the day at $258.52, up 0.13 percent.
According to The Wall Street Journal, Intel (NASDAQ: INTC) will see its chips power the next version of Google's (NASDAQ: GOOG) Glass. Shares of Intel lost 0.18 percent, closing at $37.18 while shares of Google lost 1.48 percent, closing at $533.81.
Microsoft (NASDAQ: MSFT) acquired Acompli, a mobile Email and scheduling apps for as much as $200 million. Shares gained 1.74 percent, closing at $48.64.
China-based Dalian Wanda Group confirmed it is considering a stake in Lions Gate (NYSE: LGF). Shares hit new 52-week highs of $35.75 before closing the day at $34.90, up 2.95 percent.
Shire (NASDAQ: SHPG) plans to host an investor presentation on December 10 and update investors on its product pipeline and path to drive $3 billion in revenue growth by 2020. Shares gained 0.11 percent, closing at $213.84.
Recommended: Citigroup: Athletic Apparel, Footwear Should Be 'Clear Winners' This Holiday
Moody's Analytics lowered its outlook on Amazon.com (NASDAQ: AMZN) to Negative from Stable. Shares lost 3.74 percent, closing at $325.98.
Quote Of The Day
"Prices [of oil] could spike down to $30, $40. It got down to $35 in 2008, for a very short period of time. I don't believe that if it spikes down that low, that it will stay that low for long, because you will see increased demand and supply respond. The better question is where does it stabilize, and that $70-$75 area is probably not a bad place to stabilize for a period of time until you get more balance in term of growth in demand and some supply response." - Murray Edwards, one of Canada's largest oil investors and chairman of Canadian Natural Resources.
Posted-In: Amazon Apple China comScoreNews Economics After-Hours Center Markets Best of Benzinga
View Comments and Join the Discussion!